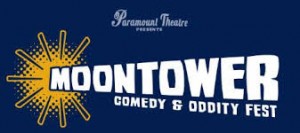 This last weekend marked the return of one of the newest of the Austin festival scene. During a weekend positively riddled with festivals, including Psych Fest and the MR Fest down in San Marcos, this event served up something unique for Austin, forgoing the usual music and movies of the more well-known and established festivals for a celebration of comedy.
The best and brightest comics working today descended upon our town for the Second Annual Moontower Comedy Festival. Stars like SNL alumni Dana Carvey and Bill Hader were in town as were big names such as Bill Burr and Jim Gaffigan. Even more independent minded comics like Brian Posehn and Maria Bamford hit the stage for four days of laughter, making Moontower one of the more enjoyable festivals that call Austin home.
It would have been impossible to see every act that performed during the festival; much like South by Southwest, showcases were spread out all across the downtown area with many of the bigger acts playing concurrent shows at different venues. But a little bit of planning made all the difference, as I was able to see most of what I wanted to see without any issues. This was made easier given the fact that many of the comedians performed multiple shows.
I caught Maria Bamford's set Thursday night at Stateside; Bamford is well-known among the comedic circle as one of the comedians highlighted in the 2005 documentaries "The Comedians of Comedy" as well as breakout performances on Conan and The Jimmy Kimmel Show. I've been a fan of Bamford's for years and I was thrilled to see her live. Her hour long performance was filled with her manic-depressive observations and vocal impressions that she has become known for and she kept the audience rolling the entire time. Her set was helped by opener Jared Logan, who performed later in the week at the Dark Lords of Comedy showcase; Logan's warm-up set provided the perfect mood setting, gearing the audience up for Bamford's sweet crazed woman persona.
Later that evening, just down the block at the Paramount, comedic superstar Reggie Watts brought his brand of musical comedy to Austin, a town he professes to love dearly as he sang in one of his improvisational jams he's known for. Watts is known for creating off the cuff beats using beatboxing techniques and a sampler. We've all seen him on YouTube displaying these skills and it was interesting to see him perform his magic live.
One of the highlights for me was seeing the Nerdist Podcast's Chris Hardwick at Stateside. Being a fan of his podcast, I wasn't really sure what to expect from a stand up performance, but Hardwick did not disappoint. His show was highly interactive; while he did to a few pre-written routines, the majority of his set involved interactions with the crowd and responding to them. In a certain sense, he brought his interview style from the Nerdist directly to the fans, at times sitting on the edge of the stage to better address his "interview subjects".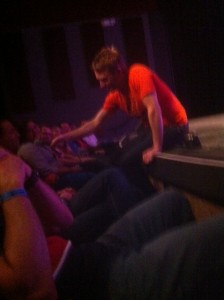 This approach led to one of the more memorable moments I had at the festival; as Hardwick playfully mocked an audience member who was getting up for a drink, he ordered a club soda for himself and a Sprite and Dr. Pepper for two members of the front row. When she returned with her drinks she, of course, didn't have Hardwick's order (rude!); however, several minutes later, another audience member walked to the stage to deliver a club soda, a Sprite, and a Dr. Pepper. Hardwick looked amazed at the kindness of this stranger and in his excitement to deliver the soda to the lucky audience members he dropped the can of Dr. Pepper on stage, causing it to explode. Hardwick handled this well and, in a display of comedic immaturity, took the mop used to clean up the spill and drew a large, veiny penis directly onto the stage.
The final highlight, for me, was seeing Dave Chappelle's former writing partner, and co-creator of Chappelle's Show, Neal Brennan perform Saturday night at the Parish. Brennan has been recognized as the genius behind some of the most memorable Chappelle's Show sketches and it was interesting to see how he did without the famously reclusive Chappelle as a mouthpiece. Brennan held his own for over an hour at the Parish as he riffed on everything from hip hop to politics to dating in what was honestly one of the funniest performances I've ever seen.
It being only the second year of the festival, Moontower didn't quite draw the crowd it probably should have given the level of talent available. While this made it cool for the attendees (I personally was able to get front row seats for nearly every show; in fact, the worst seats I had were for Reggie Watts where I could only sit in the fourth row) it still would have been nice to see a full house for every show. Additionally, there were a few organization complaints I had. The process of badge holders being given tickets for shows at the Paramount was a bit confusing and left many badge holders without a seat for some of their most anticipated shows. This process seemed antithetical to the spirit of Austin festivals, but it didn't detract from my experience overall. Hopefully next year the process is worked out to make it a little easier to understand and a smoother process.
That complaint is minor, however, compared to the amount of fun that was to be had at the festival. Moontower Comedy deserves to be an Austin mainstay and I hope it does nothing but continue to grow over the coming years. If you didn't get the chance to make it out this year, keep it on your calendar for 2014 because the Moontower festival, for all the laughs, is absolutely no joke.
In this article