SOME THINGS JUST SLIP THROUGH THE CRACKS.
It happens.    Had this disc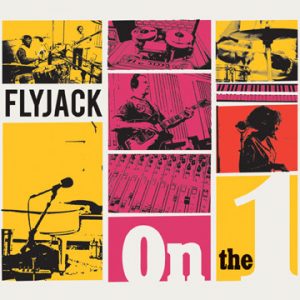 in plain site, wrapped for some time. People kept telling me about it. Shit just kept me from opening it, or getting it to HUX (cd reviewer). Today I got to it and gave it a spin. Actually, that was a few hours ago and it is still spinning. God damn yall,  this is the funk! If you dig funk like I do, you gotta pick this up. My experience with this genre of music is that the live shows are always way better than the recorded material. I think it has something to do with the room left for improvisation at live shows and the energy and groove of live expression. Yes, yes I am a spoiled bastard to have the luxory of catching live shows on a nightly basis. That's why I live in this town. I know many of you agree. That is why the heat  doesn't bother me that much. Do yall remember GNAPPY? I liked that outfit. Two guys from that band are  behind FLYJACK, Brad and Buck. The players on this cd can be caught in  many different jams on a nightly basis. The drummer here used to be the beats for JAMES BROWN. This cd is damn good. My only complaint is that it is too short. That issue is solved by putting the repeat/shuffle function on. This is a groovy disc. "Ain't it funky now" is my favorite track.  I wanna catch a live show. The Momo's stage would be a nice fit. Maybe double billed  with BROWNOUT!, Akina Aderly and the Vintage Playboys, Hector Ward & the big time or Bruce James Soultet. The choices are endless. I just hope  FLYJACK plays more often.