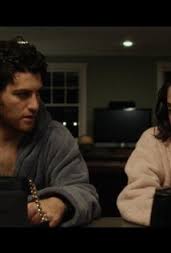 I'm not usually into romantic comedy's, but Night Owls was particularly clever thanks to the chemistry between the two main characters, Kevin (Adam Pally) & Madeline (Rosa Salazar). The story really grabbed my attention for about forty-five minutes. Somehow it just lost its charming momentum and started to feel stale as if the characters were running out witty things to say.
Kevin & Madeline enjoy a one nightstand where Madeline brings Kevin back to what he assumes is her home. He wakes up to find Madeline missing and he quickly discovers that she brought him to his bosses home. Kevin finds Madeline laying unconscious in the bathroom with an empty bottle of Xanax. Kevin has to keep Madeline from falling asleep for the rest of the night so the two are locked in and forced to get to know one another.
Tony Hale (Buster on Arrested Development) makes an unexpected visit, as a podiatrist for about five minutes and that was probably the best part of the flick. Also, Peter Krause has about five minutes of screen time. Man, he's looking old.
The chemistry between the two main characters was solid and there were some well timed jokes with a splash of slapstick here and there.  I wasn't able to buy into the budding relationship between the two characters based on the dialogue, but Night Owls was still enjoyable.