I  just love this band. I've been seeing  them  for 20 years. God, that is  scary! I've been   trying  to remember the first  show I saw.  I can't. I've  seen these guys all over the country, probably around 60 times.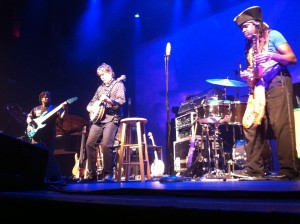 20 years is a  long time for a music junky!
I  am always blown away by what these guys do. Over the past ten years, I  have interviewed them all and have even become friends with them. They  really are cool guys. Add to that that they are each the greatest musicians on the planet at what they play  (in my opinion) and you have the basis for magic.
Bela rules the banjo. All types, even electric, he is a master. Victor Wooten is the man.  He is my favorite bass player just ahead of George Porter Jr and Stanley Clarke.  He is  also    a master of  his instrument..  Futureman takes percussion to the next level with his self invented guitar-like drum machine. Most unique is fitting. The  fourth man onstage that rounds out the Flecktones original lineup is  Howard Levy.    He plays the piano and  harmonica.
This band just takes creativity many steps forward by  virtually reinventing   their instruments. And as   a group,  that is  really a beautiful thing to  experience. If you know what these guys do, or even if you don't, give  this new cd a   spin. It continues  the  exploration into unchartered musical territories. The new album  is called  ROCKET  SCIENCE.  I am a live     show   type of  guy and I  think    to  really    feel what   they are doing you gotta see em live.  Here is  a tour  schedule. I hope    to catch another show on this tour.
In this article