What. A. Weekend. We ventured out to Driftwood, TX this past weekend for the Old Settler's Music Festival. It was a weekend of the outdoors, BBQ, a bit of mud, great music, great people, and all-around one of the best music festival atmosphere's that I've experienced. We started everything off by heading to Camp Ben McCollough on Wednesday night for a pre-festival party. We saw Rhythmic Statues, who were a really cool jam band, and Dead-Eye, a local Grateful Dead cover band. Both bands set things off right for the weekend that we had ahead of us. This was also the night that I realized that Russ was a celebrity at Old Settler's. He seemed to know just about everyone.
Thursday night we came back to Camp Ben McCollough where we started things off with Bill Kirchen, who blew me away. The guy was a total badass. He was like a musical encyclopedia in the way that he impersonated so many great guitarists and his original stuff was very solid as well. After Bill Kirchen, we saw the bluegrass band, The Infamous String Dusters. They were a bit poppy and polished for my taste, but they were a fun band of talented, very skilled, fast picking musicians.
Friday night, we went across the bridge to the real festival stages where we saw a newgrass legend, Sam Bush. He was one of the highlights of the festival for me. By the end of the set, he had everyone "Howlin' At The Moon". With the help of a band manager of the Mavericks and the Old Settler's staff and volunteers, Russ got a front row seat for both Sam Bush and The Mavericks (and also for the rest of the festival). The Mavericks took the stage just after Sam and closed out the night with some really cool Tex-Mex style country music.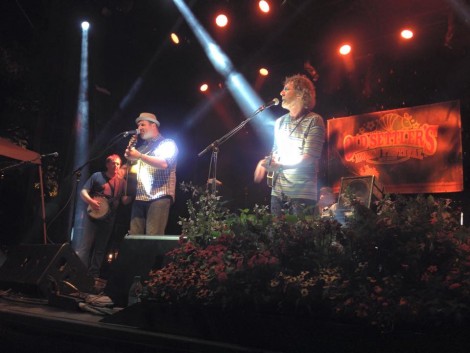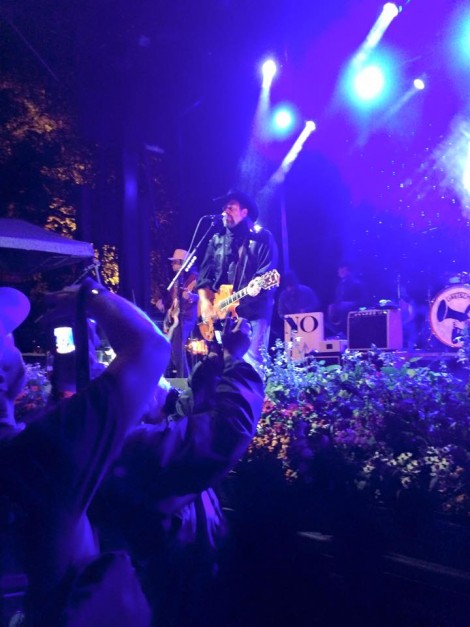 Saturday, we began by seeing Hot Rize, a progressive bluegrass band who put a fun little creative twist on their set. In the middle, they changed into western gear and pretended to be a separate western swing band called Red Knuckles and The Trailblazers. Both bands were great and had a lot of character to their music. After Hot Rize, we headed down to the Bluebonnet Stage in another area of the festival and saw the end of the Lost Bayou Ramblers.  They were really rocking out and bringing it with some Cajun music. After we snagged some food, we decided to check out the ukulele virtuoso, Jake Shimabukuro. At points it was hard to tell that this guy was even playing a ukulele.  It was really astounding that he was playing like he did with just four strings.   The part of his set that we caught consisted of mostly instrumental songs and ended with a really awesome version of George Harrison's classic, "While My Guitar Gently Weeps". Jake left the stage and we stayed for the beginning part of JD McPherson where we heard the first bit of plugged in real Rock & Roll that I had seen all festival. After about 20 minutes of that set, then headed over to check out Chuck Prophet. We got a prime seat in the front center of the stage, but unfortunately had to leave it because a storm was headed our way. I'm glad we did leave when we did because just as we got under cover it really started to come down really hard and they had to postpone the set due to thunderstorms (even some hail) in the area. After waiting around for a little while, we decided to call it a day and head home for the night to rest up for Sunday.
Sunday's music was back over at the campground and turned out to be my favorite day of the festival. We started things off with Pokey LaFarge, who played folk/swing/eclectic American roots music. I felt like we had been transported back in time and hearing a traveling band from a dustbowl carnival. It was really really cool. The lead singer had a killer voice and had a set of really well crafted songs. His band was lively and energetic. They were one of the major highlights of the weekend and a total surprise at that. Shinyribs took the stage after to close down the weekend of music. He put on an extremely high energy, fun, and musically eclectic set that had people up and out of their seats dancing the entire time. At one point there was a conga line going through the crowd which the lead singer, Kevin Russell, and his horn players jumped into and started parading around the stage area. It was an awesome show and the perfect way to cap off our epic weekend.