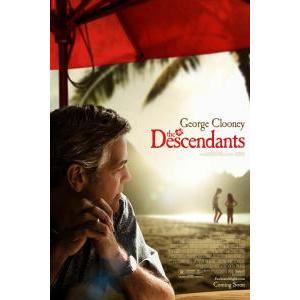 "The Descendants" gives us George Clooney's best performance to date. Let's just get that out of the way. I had grown weary of Mr. Clooney's most-frequent on-screen persona of the uber-competent man thrust into a morally compromising dilemma. I had also grown weary of watching those very similar performances gain Oscar nominations. Here, he's doing something different, and it's more than just refreshing. There's something deeply satisfying in the wide-eyed, what-the-hell-am-I-supposed-to-do-now expression he adopts throughout much of the film, particularly in response to his errant daughters. It's relatable (to be sure), comic (certainly), and touching (most of all.)
It was a smart move to turn himself over to Alexander Payne, a director known for stretching A-list actors ("Sideways," "About Schmidt," "Election"). Mr. Payne has a knack for stories which mine life's awkward moments to find both the comedy and drama in them, and here he's given us his most accessible film. The Hawaiian views are spectacular, the locale and culture are captured with detail and specificity, the family dynamics feel alive with depth and sincerity, and the emotional catharsis is powerful.
"The Descendants" deals with the inevitable death of a coma patient whose secrets are revealed before she breathes her last, leaving her confused and grieving soon-widower (Matt King, played by Clooney) with a mix of emotions in extreme degrees. She's also about to leave behind two daughters, Alex (Shailene Woodley) and Scotty (Amara Miller), who are seriously lacking in parental supervision and respect for authority. There's a mystery of sorts (which I won't give away) that thrust father and eldest daughter on an adventure together. It is this relationship that flavors the film with delightful surprises.
This reviewer hopes that Mr. Clooney's fine performance doesn't completely over-shadow that of Ms. Woodley. She's a fine young actress who delivers what should be a break-out performance. Other stand-outs include Judy Greer (as "Julie Speer" – coincidental name similarity or perhaps the role was written for her), Robert Forster as the crotchety father-in-law, and a newcomer named Nick Krause (from the Austin area) who plays the stoner boyfriend in a performance reminiscent of early Jack Black. Mr. Krause attended a Q&A after "The Descendants" screened at the Austin Film Festival. He was intelligent and articulate. Don't let the performance fool you. That's acting, folks.
There is a subplot involving the King family's estate sale of pristine paradise land which dove-tails nicely with the main plotline and allows Beau Bridges to make an impression in only a couple of memorable scenes. The conclusion of this storyline is the only predictable element in the film, but it's unlikely audiences will mind.  
"The Descendants" finds resonance in surprising moments and unexpected places, and this ultimately is its special charm. The final shot is at once simple, complex, and deeply moving – like the film itself.
5 of 5 stars