Sound on Sound Fest is happening this weekend!
Austin stretches the festival season into November with a killer lineup of local and touring bands at the inaugural Sound on Sound Fest. Check out some highlights of bands we like. Full schedules and ticket info available at http://www.soundonsoundfest.com/
Guided By Voices – Friday 6:40
This band sprung up somewhere in the murkiness between 80s college rock and today's indie rock. Reuniting in 2010 with rejuvenated energy, they still prompt live show witnesses to consider them one the best live rock bands going.
Run The Jewels – Friday 9:15
High energy. Intense. Hip hop that's not about ego. Run the Jewels is for real. Some friends of mine took their kids to another local festival where Run The Jewels were playing, which prompted the kids to ask why Run The Jewels uses the F word so much. Vocabularies were expanded but good times were still had by all. If your babysitter plans fall through, keep in mind Sound on Sound Fest features a Kiddie's Kingdom with Run The Jewels-free entertainment.
Thee Oh Sees – Friday 10:25
Honed in garage psych rock that at times sounds like it could've fit in on an early season True Blood soundtrack. Raw, dark, menacing guitar energy.
Thundercat – Friday 11:40
When your name comes from the 1980s Japanese cartoon show Thundercats, expect a real life persona that is out there in a cartoon come to life kinda way. His wardrobe comes from a future portal clothier in the same neighborhood where Sun Ra shops. His music talent makes him a musician's musician, working various ends of the music spectrum. His bottom end bass thumps out jazz when working with Kamasai Washington and also anchored the dream team on hip hop superstar Kendrick Lamar's masterpiece To Pimp a Butterfly. His solo band takes it all even further. Not to miss.
Moving Panoramas – Saturday 1:30
Austin power trio of guitar, drums, & bass got lots of local radio love with their song "One". Search that song out online, or better yet come hear it in person.
Hardproof – Saturday 2:20
Austin's afro-funk behmoth is always a fun dance party.
Dead Milkmen – Saturday 5:15
Even if you were old enough, you probably weren't cool enough to see the Dead Milkmen in the 80's, but now you have a chance to dance to Punk Rock Girl.
Flag – Saturday 9:20
In a post-Black Flag world, this current round up of former members simply go by Flag, and continue to get it done.

Beach House – Saturday 9:15
Straight outtta Baltimore, this dream pop duo combines guitars and Nico-like vocals, alluring music for your Saturday evening outdoors.
Pussy Riot Conversation – Sunday 6:00
Jailed in Russia for expressing themselves creatively, the Russian iron fist tried to smash this band's spirit, but these ladies fought back. Come hear tales of what a Trump Presidency will look like once Turmp starts censoring critics and artists after copying policy from his buddy Putin.
Courtney Barnett – Sunday 9:15
Her live show is full of punk energy only hinted at in her studio recordings, the meandering stream of thoughts for song lyrics are the focal point in the studio work, but live it's all about the music delivering a power trio punch.
Big Freedia – Sunday 10:25
Ah yes! The Queen of Bounce Music represents New Orleans as an ambassador for booty shakin to the rest of the world. Needs to be seen live to understand the effects these beats have on peoples dance moves.
Explosions in the Sky – Sunday 10:45
Local band, rare local appearance. The live show is like listening to a rock soundtrack ebb and flow into crescendos of emotional release and guitar explosions.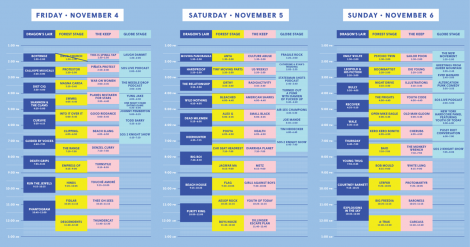 In this article