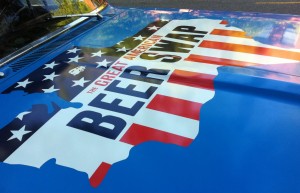 The Austin-Seattle connection can manifest in so many strange forms!  Sometimes it's a dynamic musician who keeps one foot planted in each city.  Sometimes it's two guys on a wacky quest to drive to Austin and back to Seattle  just to swap 200 cases of local brew.  Sometimes it's a strange convergence of the two.
I'm talking about the rock and blues guitarist and signer Ian Moore, who transplanted to the Seattle area from Austin about a decade ago.  I'm also talking about Gabe Johnson and Jeff Ludwig, two Seattle dudes who birthed the zany idea of "The Great American Beer Swap" and just ran with it.  Gabe and Jeff fixed up a 1969 Ford truck and rehabbed and retro decked-out a 1970s horse trailer, loading the trailer with 100 cases of Seattle's iconic Rainier beer, and set off on a mission to swap the Seattle's finest old-school brew for 100 cases of Lone Star beer in Austin – returning back to Seattle within seven days.  Whoa!
Ian Moore, as well as longtime Seattle favorites The Maldives, rocked the crowd of Seattle supporters at the September 2nd send-off benefit at the Tractor Tavern.  At midnight, Gabe and Jeff rolled away hauling 100 cases of Rainier amidst fireworks shooting off in the street.  Besides the fireworks and the people crowded on the sidewalk, there wasn't much fanfare, but it still felt weirdly special to be a witness, much like watching an epic indie film.  When they were out of sight The Maldives took stage and cheered up those of us left behind to our day to day predicable routine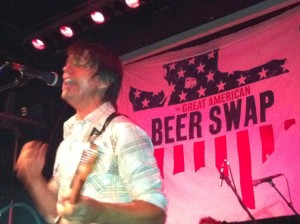 I had the chance to talk to Gabe before the big trip.  When asked why they were doing this his answer was: "Because we can."  My read on his perspective after our conversation was: "Why the f*** not!  Life is short, man!"  They hope to inspire others to take action and bring their creative, wild, and inspired ideas to life.  There were no corporate sponsors behind "The Great Beer Swap."  Funding and work hours were either donated or raised through their benefit events in Seattle and Austin.
Astonishingly, they rolled into Austin on September 7, a mere 45 minutes late for the swap benefit event at The Scoot Inn.  Ian Moore had flown into Austin to greet them and to play for his Austin fans.  Within a few short hours, Gabe and Jeff were on the road again, freshly reloaded with 100 cases of Lone Star headed back to Seattle.  And, by God if they didn't pull into the Seattle reception party at their own funky event space, The Horses Cut Shop, on September 10 at 3:00 pm on the nose!
I love beer and I love music, so I couldn't help but love this story.  Although I missed the arrival of the Lone Star brew back in Seattle (a road trip of my own got in the way), I did log in another great foot-tapping, booty-shakin' show with Ian Moore and the Maldives.  Don't miss either if you have a chance to see them live.
Final words from Gabe the day after his return: "Talk is cheap."  Seriously, guys, let's have those adventures and live life big now so that we have an amazing movie to playback in our minds when we're sitting in that rocking chair in our nineties!
"Salt Mines" by Ian Moore and The Lossy Coils
"Time is Right Now" by The Maldives