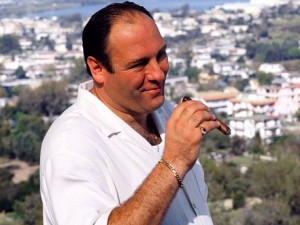 The acting world is in shock today as it mourns the sudden passing of James Gandolfini. Gandolfini, who will forever be inseparable from his legendary role as the angst ridden mafia don Tony Soprano from the HBO original series The Sopranos, died suddenly of a suspected heart attack while in Italy where he was set to appear at the Taormina Film Festival later this week.
News quickly sent waves through the twitterverse and blogosphere as bits and pieces of information leaked out throughout Wednesday evening. For a brief moment, it was speculated that his death was just another in a long line of internet death hoaxes that pop up every few months. As the evening wore on, it become more and more clear that the rumors of his demise were, unfortunately, anything but exaggerated as his long time managers Mark Armstrong and Nancy Sanders released a joint statement confirming the rumors.
"It is with immense sorrow that we report our client, James Gandolfini, passed away today while on holiday in Rome, Italy," the said in their statement. "Our hearts are shattered and we will miss him deeply. He and his family were part of our family for many years and we are all grieving."
Though he will be most remembered for his nuanced portrayal of Tony Soprano, Gandolfini was an accomplished actor of both stage and screen who consistently breathed new life into characters that might otherwise be shallow archetypes. He first gained notice while co-starring with Alec Baldwin in the Broadway revival of "A Streetcar Named Desire" in 1992 and gained his next big break the next year portraying a hit man in the Quentin Tarantino penned True Romance.
His portrayal as the cold and jaded assassin in that role set the tone for the bigger roles of his career, stunning audiences with a chilling monologue about his job in which he emotionlessly opined "now I do it [kill people] just to watch their fuckin' expression change".
Gandolfini won three Best Actor Emmy's for Tony Soprano, solidifying his reputation as a powerful performer with chops and experience that any actor would die for.
Though he has largely remained out of the public eye since the controversial finale of The Sopranos, Gandolfini was known for making the occasional appearance in supporting roles like his turn as a CIA director in last year's Zero Dark Thirty and as a sleazy hotel owner in this year's The Incredible Burt Wonderstone.
His remains are currently in Italy awaiting autopsy per Italian law; once complete, his body will be delivered to the family for final interment and memorial.
Gandolfini was a man who cared immensely for his craft and worked carefully to hone his skills throughout his 20 year career. At 51 years old, he was too young to die and the world has lost one of the most remarkable actors of this generation. His loss leaves a void not only among actors but among his family as well. He is survived by his wife Deborah Lin, their infant daughter Liliana, and his son Michael from a previous relationship.