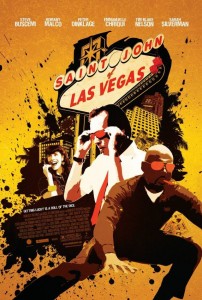 The movie is full of kookiness like a dwarf for a boss, a maverick insurance fraud investigator, a stripper in a wheelchair, a carnival sideshow act always engulfed in flames, gun-toting male nudists, mobsters running a junk yard, and a creepy girlfriend with a yellow smiley-face fetish. Steve Buscemi stars, Sara Silverman gives comedic relief, and Spike Lee executive produces. The pitch for this movie must have practically sold itself because it sounds amazing. But is it?
 
Upfront, Saint John of Las Vegas is not a good movie. I have to root for it anyway because it gives Buscemi a leading part instead of making him a sidekick or supporting role. The man is one of the greats and rarely gets to show it in starring role. It also has a quirky plot that stays away from the predictable Hollywood format. This is the first film released from IndieVest, a new LA based company that finances films, and I'm all for new paths to distribution outside the normal big studio channels.
 
Buscemi's character (John) is a gambling addict, and his gambling habit is larger than the man himself. John can't walk into to a gas station without emptying everything in his wallet to buy scratch off tickets. Sometimes John can only get half a block before loosing all his money on two hands of blackjack.  Work offers new promise when John gets promoted to fraud investigation. All the kooky antics noted above come into play as John journeys into Las Vegas on a case.  Some other reviewers like to mention the script is loosely based on Dante's Inferno. It sounds cool to reference Dante's Inferno, but like me, they haven't really read it. That's why you won't see any reviewers explain which scenes come from Inferno. Come to think of it, I've always though Las Vegas is a lot like Hell, so there's one connection.
 
The obstacles in John's journey into Hell/Vegas are sometimes outrageous and funny. Sara Silverman provides some good laughs. Buscemi is great as always. Even with everything going for it, the film somehow falls flat. But it's a first time film from IndieVest, and it gives them something to build on.
In this article