If you have been lucky enough to catch one of Seth Walker's shows, you know that he brings something special to the blues. His irrepressible energy, wailing guitar,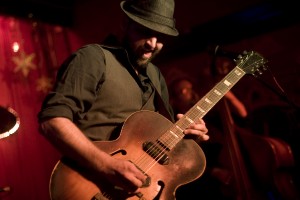 and smoky voice are a triple threat. To top that off, he pens songs that hold their own against the canon of blues classics he draws from during one of his sets.
If you are crazy like me, you may have taken all that talent for granted, at least a little. After all, for ten bucks, you can see him at the Continental Club, Saxon Pub, or Momo's on a regular basis. Although he moved to Nashville recently, he plans to play Austin as often as he did when he lived here. A quick look at his tour dates confirms you will have several chances to see Seth before summer sets in. He will play Saxon Pub in April, Momo's in May, and Saxon and Gruene Hall in June.
He also has gig opening for Willie Nelson at Whitewater Amphitheater down near New Braunfels on April 23.
I sat down Seth him a few weeks ago to find out what he plans to do now he's a Nashvilleite.
What brought you to Austin?
Probably listening to Stevie Ray Vaughan…I didn't really start playing guitar until I went to college at East Carolina University. Some cats in my dorm had guitars, and I was like, that's cool—I want to try that. That's what they were listening to, electric blues. Stevie Ray, Clapton and Hendrix.
About that time, my uncle, Landon Walker, a jazz bassist from Florida, was sending me tapes of a radio show, which had all this Texas blues stuff. The older stuff, T-Bone Walker, Lighting Hopkins, Mance Lipscomb…the whole gamut—Little Son Jackson, B.B. King, Louis Jordan, and on and on, Son House, Muddy…
I was just starting—I didn't know what the hell I was doing at all. But I did know that I needed to go somewhere where music was woven through the city. And Austin was one of the spots I thought of.
What takes you to Nashville?
I started working about two years ago with Gary Nicholson, who produced my last CD. He's a world, world-class writer and producer, and we just became fast friends. Going up there…meeting people and doing the record, opened up a lot of new friends.
And change is always good. There are other reasons too. It's more of a central hub. It's a lot easier to get to (tour stops). I am on the road a lot right now, and, in an eight-hour radius, you can get to a lot of places.
Another big reason is my Mother. She lives in Ashville, which is 275 miles away. So, I can get in my car, go see her, and my Dad, and my sister, and my niece. And, you know…I'm from that part of the world…hey, I'm not getting any younger. Might as well try it now.
How did you meet Gary?
Americana radio promoter Al Moss set us up together. We (Gary and I) have a common thread–not only musically, but personally. We just work well together as friends, so it just comes out real quick.
I have a publishing deal with Gary's son Nathan, and he sets me up with some writers. Danny Flowers, who's another great writer up there. A guy named Kenneth Wright…. It's all new to me. I'm just getting into some of it.
Will you focus more on writing now?
A lot of people have asked me that, "are you going to go up there and stop performing?" and I'm like—no. Gary's main thing is writing; my main thing is performing. So that's not going to change, at all. That's what I'm doing now. Writing songs and touring. I'll just continue to do that.
You obviously have a connection to Austin. Will you continue to play here a few times a year?
Oh, it'll be more than that. I mean…I probably won't play any less in Austin than I was because I was on the road so much. I'll play Dallas, Houston, San Antonio, Luckenbach, La Grange, Fort Worth, there's a few (venues) around the outskirts of Houston that I do…
And a lot of times I'm touring as a solo, which I really love. The solo act has afforded me a lot of opportunities. I can get on a plane, by myself, and get to a gig, and go play.
When I do it solo, it's a different take on it, and I respond differently. I can't help but to. It's just me, and the audience. I enjoy it.
What's the name of the record you have out right now?
LEAP OF FAITH. It came out in March of 2009. I've put out a record every two years, around that…sometimes it's been a three-year lag. So, this year I'll be starting to think about a new one. Gary and I have a couple keepers.
Rewind is a keeper. Tell me the story of how that one came about.
That's the first song Gary and I wrote together. The first day of meeting him, we wrote that one. He sat down with me and said, "what you got? " I was playing a piece of this thing I was working on. He listened for a while, then said, "You've got a good thing going there, I don't want to mess it up—unless you want me to. "
And I did want him to.
What's next?
We'll see where the next record takes me…the music will dictate what I want to do with it. I trust in that. I think the next record is going to be more a vocal record—the vocals will be more out front than they've been in the past.
On the last record I used Nashville guys that work with Gary a lot. It is something I wanted to try. It was a good experience for me. You talk about the comfort zone and pushing you to react differently than what you're used to. It's just like moving to Nashville. It's the same kind of deal, pushing yourself.
You've had a good run in Austin; thanks for all the years…
I have. I love this town; it's been so good to me. And I don't plan on NOT being here a lot. I am actually keeping my little apartment here, so I'll have dual citizenship.
In this article