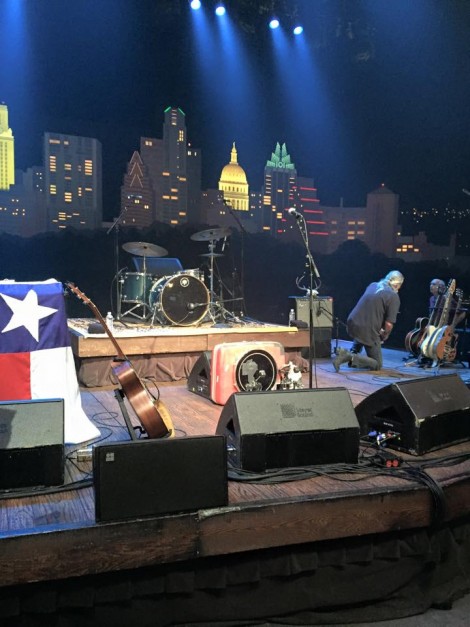 Last Wednesday, Russ and I ventured to the Moody Theater for the Austin City Limits taping of Shakey Graves.  I saw the advertisement for this show on the ACL website a few months ago and was excited for it even that far back.   I had seen him live a few times before and his live performances have always been incredible. This taping was no exception. It was a bit of a homecoming for Alejandro Rose-Garcia (Shakey Graves), who was born and raised right here in Austin, TX.
He jumped right into his set after taking a second to soak it all in and feel the good vibes from the hometown crowd.   He kicked off the show with one of my favorites, Roll The Bones. With his suitcase-turned-kick-drum, tambourine pedal and electric guitar he set a precedence for the rest of the show, ensuring that it was going to be a special night. The powerful thud of that kick drum was enough to make you feel like getting out of your seat. He then jumped into some newer stuff and brought out his drummer, "Boo", and guitarist, Pat O'Connor, for a few songs to add to his sound up there on stage. Some of the notable new songs, for me, played during the set were, "If Not For You", "The Perfect Parts", and "Family and Genus". The dynamic range of within his songs, especially live, is something that I don't see many musicians even come close to pulling off. He was constantly going from super dirty, overdrive ridden, distortion drenched electric guitar to near silent palm muted fingerpicking. He seemed in control of every aspect of the songs and would let it all go and bring the ruckus and then harness it all back together seconds later. The chemistry between the drummer, Boo, and guitarist, Pat was very impressive considering the amount of tempo shifts that went on during each song.
There was an acoustic portion of the night where Shakey Graves played solo with just his guitar and his voice. He even played a request from his mother, Chinatown (with a bit of kazoo added).  Some material from previous albums was also played, including "Built to Roam" and "Proper Fence".  Again, the dynamic range even between the songs chosen for the set was very cool to hear. His stage presence was great and banter between songs really added to the fun during of the show. He ended with "Dearly Departed" and brought out local songwriter, Carson McHone. They were a fantastic duo and ended the set very nicely.  An inevitable encore happened and Shakey Graves took the stage solo again playing two songs, Hard Wired and Late July. The entire show exceeded my already high expectations. I would definitely recommend catching one of his shows the next time he comes back to town. This guy is the real deal.
In this article