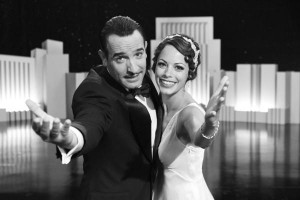 "The Artist" is a delightful confection that resurrects the art of silent film for a modern audience. Let's call it "neo-silent," if you will, as sound does play a role in the movie, though used only sporadically and to clever effect.
Meet George Valentin. He loves himself, and why shouldn't he? He's a huge star, he has a loyal dog who is his constant companion in life and onscreen, audiences adore him and his existence is almost perfect except for his sour-puss wife. Jean Dujardin's portrayal of Valentin is simply splendid. His remarkably expressive, handsome face calls to mind Gene Kelly in "Singing in the Rain." That smile could light up the world! And like Kelly, he tempers the character's ego with an easy charm and gentle wit that makes it impossible to hold his conceit against him.
A cute mishap on the red carpet serendipitously thrusts the unknown Peppy Miller (Berenice Bejo) into the spotlight alongside Valentin and a star is born. Bejo's delightful every-girl quality is infused with infectious joy and energy that befits the old-fashioned stage name to perfection.
Problem is, while Peppy's on the way up, Valentin is on the way down. Silent films are falling out of vogue and talkies are the rage. Peppy is the new poster girl of the now and the wow.  Valentin is a dinosaur. As his life disintegrates into ruins, he's forced to watch from afar as Peppy's star rises. What he doesn't know is that she hasn't forgotten him, and it is this aspect of the story that gives the film its heart.
Peppy keeps tabs on Valentin. One can attribute her motivation to several factors: 1) She is loyal to the fact that he discovered her, 2) She realizes that her own fame won't last forever and one day she'll be in his shoes, and 3) She's been in love with him ever since they first bumped into each other in front of the flashbulbs.
Peppy becomes a sort of secret guardian angel for Valentin as the life he once knew slips further and further away. Through her, and with some help from his loyal canine companion, Valentin must find salvation. The storyline tips its hat to both "A Star is Born" and "Singing in the Rain." It's sweetly and unashamedly old-fashioned; an exercise in anti-cynicism that will open your heart wide if you let it.
"The Artist" gets everything just right on a technical level, thanks to director Michel Hazanavicius and his entire team. The recreation of film style from that era is phenomenal down to every detail including the saturation in the black and white, the framing and blocking of scenes, the Art Deco environs, and of course the charming fashions. But this film is more than a technical triumph, and more than homage. It's a rousing escape to another time and place that leaves your heart lighter than when you came in.
Quite simply, it's the feel-good movie of the year.
5 of 5 stars
In this article