PIGS ARE FLYING THIS WEEKEND.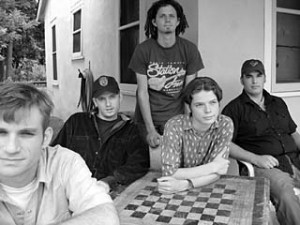 The original line-up!!!
THIS WAS ALWAYS ONE OF MY FAVORITE BANDS. BACK IN THE EARLY YEARS OF Austin Daze, these guys would frequently answer our calls and play benefit after benefit. Helping our audience grow and alwaze ensuring that we could release another issue. When we decided to create the 1st THURSDAZE CD,   THEY DONATED 2 LIVE tracks  to the disc.Warren   was off at school for most of these gigs. Not on Sundaze!!!
I have dug all the line-ups over the years and  have missed the songs. I have watched (the now dreadless) Willie Pipkin grow into  an unstoppable guitar. He and Warren Hood slaughter me on a  weekly  basis. Warren is just the shit! Really, that is what you say about Warren. He is just awesome!  James Hyland  was in  the latest AUSTIN DAZE. He is pumping out new material that is  quite good.Will Dupuy's La Tampaquita takes no prisoners and Matt Slusher has been picking with Wood & Wire. Fact is that each member has kept going strong  and is in a better place with their instrument. Does that make sense? I  don't know because they were awesome. The word is they have each gotten better! Glory be! I cant wait till Sundaze!!!!!!!!
In this article