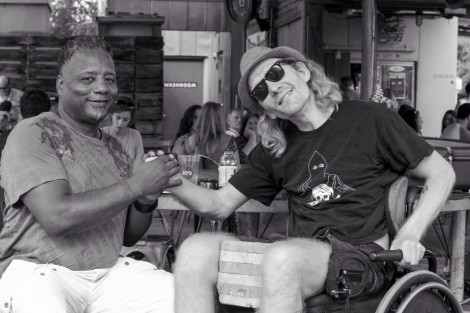 Get to know John Nelson with us. El John is one of the nicest guys I know. I know that we have crossed paths before because this is Austin and we have been in the same scene for a long time. He " slaps skins" on Wednesdaze night up at the Gallery. I park my chair right by where he sets up. We have become great friends over the years. El John is a respected figure in the music community. He has played with everybody. Maybe one day I'll take a good picture of him at the Gallery. Maybe… 🙂  I am so fortunate to have these conversations and to have these people as friends. Thanks John for sharing words with me here. Our team this time was Belinda, Rockslide (aka Grubbs) and me (transcribed by CC Bonney). Thank you for reading…
AustinDaze: When and why did you start to become a musician and what were the influences that made that happen?
El John: Early on, there was music just around when I was growing up, so I wouldn't say I was a musician. Probably, in High School I started playing trumpet, and then simultaneously, this was in Junior High School, my family was breaking up. I had taken a bunch of piano lessons when I was a kid. My Mom and Dad were very musical, they were theater people. My Mom sang in church and my Dad was a classically trained baritone tenor. And so, that kind of music was always around. Plus they had parties all the time. Great record collection, 60's and 70's. Really really influential music. Anything from the Beatles to Carlos Jobeam Jobim, to Aretha Franklin and classic soul music. When I was in junior high school and I was learning to play trumpet, my family was kind of breaking up. I was running on the streets in Harlem. My Aunt Constance who was taking care of me enrolled me in drum classes at The Olatunji Center for African Culture on 125th Street in Harlem to kind of keep me out of trouble. And it stuck. That was my first formal drumming lesson. I was about 12 then. From there, there's all sorts of learning situations I evolved towards. My Dad's brother, his name is Allen Nelson, is a jazz drummer. He mentored me on the drum set. So this combinations of things and playing in bands, studying music in school, and just constantly playing from that point.
AustinDaze: Where are you from?
El John: I grew up in the northeast. Brooklyn and Harlem, New York, Bel Air, Maryland, Camden, New Jersey.
AustinDaze: How long have you been in Austin?
El John: I moved to Austin in September of 1989. That was my first visit to Austin. I stayed for four years. That visit to Austin probably shifted me from being more or less a hobbyist amateur musician to really hardening my core and introducing me to a lot more different styles of music. The band that I had gravitated in and out of since 1986, Poi Dog Pondering was signed to Columbia Records following one of the early SXSW's in 1990. So it was a really momentous time for me. One of my first big tours with Poi Dog, I met and would learn from a whole slew of influential musicians, Rich Brotherton, David Halley, J.D. Foster, Stevie Ray Vaughn, Ian Moore, Ten Hands from Dallas and go see them all quite a bit. Just lots of music that I had not really been very much exposed to.
I might like to add here: At this time the Austin music scene was rich with verve and the sense that something was happening. There were several bars where me and my friends would hangout – Antone's, Cannibal Club, Steamboat, The Black Cat and Liberty Lunch come to mind – and those places helped to foster a feeling of community and belonging in me.
AustinDaze: Tell us some of the outfits you are involved in currently and in the past.
El John: Presently, it's pretty interesting. Going chronologically backwards…. Presently, I feel like I have assumed a more utilitarian role than I used to. So it's interesting, I've been letting my skills work for me and picking some different gigs. I'm playing conga a lot with Anthony Farrell and The Greyhounds on Wednesday nights or Snizz and friends. That's been really great for me because I reached out to Snizz (Dave Robinson) for something interesting to do when I needed it, and he welcomed me to that scene. So I've been doing a lot of that and loving it. It's Wednesday night church.
I'm playing with John Bush Band. We have a drum bullpen with me, Seth Orell, and John Bush switching between drum kit and percussion. It works well because John writes these rich and sometimes bombastic grooves to play with.
I was recently involved with the Golden Dawn Arkestra. We parted ways when a giant ego parked in the middle of the process. I love that band and recorded on their debut record.
I'm still drumming in one of my long time bands, Poi Dog Pondering. The band is vital and recording, doing short regional tours. We have been releasing one song a week since the beginning of December 2014 that will eventually comprise an entire album. I play the bigger budget shows and record with the band. That's my forever musical family since 1985.
I started touring with Thievery Corporation live band in summer of 1998. I drummed for 2 records (Cosmic Game and Radio Retaliation) before leaving the band in 2011. The musical and stylistic choices of Rob Garza and Eric Hilton have had an impact on my relationship to music in almost every imaginable way.
AustinDaze: How did you get the nickname El John?
El John: It was a partnership with a dear friend of mine. Her name was Elinor. And it has a bit more cryptic meaning because at the time I was conjuring a business name, I was reading an autobiography of Nelson Mandela and he talked in one chapter about his first arrival by train on the 3rd class coach into Johannesburg. And when he came off of the train, he was getting his bearings, the white man in a suit next to him, turns to him and says, "John grab my bags for me and bring them over to the car." So I had thought of my name at that moment as being very generic, like boy. Hence, El John, the combination of Elinor, generic john, and "the" for more generic emphasis.
AustinDaze: That's heavy. When was that?
El John: I was reading that biography in 1994. I've worked that name in since then, and reluctantly with some crowds. Some people just don't get nicknames.
AustinDaze: What is your favorite place to play in town and why?
El John: Nowadays, I would almost have to say, and it is a weird thing to say, and without exception, probably the Continental Club. Yeah, right there. Both the downstairs and the upstairs. It certainly isn't because of any super bad ass production value or anything like that, but it's more about the people that work there, their commitment to the music and taking what they have to work with and making it work. And Steve Wertheimer always gives a reasonable deal. People who go there are people who care about the music. That's one of the greatest things. Aside from that, there's probably other places. I don't really play anywhere in town anymore. But I like the Sahara Lounge, I think they are pretty awesome and committed to the music community . I like the new outdoor Gypsy Lounge. I think the ND does a good job and I think their room is under utilized. I love the Saxon Pub, they have it down. They care a lot about their music as well. Strange Brew has come on the scene and they do a great job. So yeah, I think that's the first criteria. I like when you go in a place and the people care about how they treat musicians and they care about their music.
AustinDaze: How did you get involved with the Greyhounds?
El John: It was really by osmosis. I think I touched on it a minute ago. But I had heard of those guys and I had become friends just in the Austin music community with Anthony Farrell and Andrew Trube. They are both such incredible musicians. Just that kind of wave of energy that's before them, preceding them. David Robinson, Snizz, he and I go way way back. We started out in a band called The Atlantics back when there was only one band called The Atlantics (now it's a franchise). I used to call him Bongo Dave back then. We'd switch off drum set and congas. Dave's been a good friend. I was in a transitional phase both personally and professionally when I left Thievery Corporation. I was a bit lost. I reached out to Dave. And he was like, "You need to come up here and play on Wednesday nights." So that's what I've been doing. It's just been food and church for me. Because like I said, they're all tremendous musicians. I feel incredibly fortunate to be invited and welcomed on a regular basis. Super cool.
AustinDaze: And how about the Golden Dawn Arkestra, how did you get involved?
El John: When that band was kind of forming, and I think Topaz had a big idea of doing some Afro-groove Sun-Ra inspired music, and it was obvious it was going to be a big project. Topaz was pretty much the ringleader with it. He and I had been involved with a couple of different projects. I have a David Bowie cover band around town called Super Creeps that I invited Topaz to play in, and we've kind of been playing in that and a couple of other things occasionally. He knows my conga playing and asked me to be involved. It was good right from the get go. I think that band has some musically powerful people in it which is manifests itself in various ways. The power of 12 egos of twelve musicians in one project. But super bad ass, and when the pistons are firing, its super deluxe.
AustinDaze: I really like watching you and Topaz play off of each other, you talk to each other musically. Like he will blow something through the horn, and you'll answer  on  percussion.
El John: Nice, I love that you see that. That's spontaneous, not completely improvisational, but that's an element. That is something I think is really special and I love to incorporate in music. I think Topaz and I probably come from that similar school of some jazz informing. I really enjoy that in music. My favorite projects involve some element of spontaneity and improv.
AustinDaze: Drew told me to ask you about the Coast Guard.
El John: The Coast Guard? Who  told you to ask me that? That's fuckin' hilarious. How does anybody even know I was in the Coast Guard?
AustinDaze: Andrew.
El John: Oh, Andrew Trube? That's who told you to ask me that? That's really hilarious. So yeah, I was a really wayward teenager. When I got out of high school, I had the potential for a lot of direction, but I had no real guidepost. I didn't have a very good rudder and my parents were pretty absent. So yeah. I don't whine about that, I mean it was interesting. It gave me the opportunity to make some of my own choices in some interesting ways. One of them was that I was interested in and I was studying photo journalism and I thought there was a path for me in the Guard to develop and learn that. So I joined the Guard right out of high school. In 1979, I was in boot camp and spent the summer in Cape May, New Jersey. Spent 8 weeks learning how to jump out of a helicopter, grab a body. I became a sharpshooter. I can't believe that Andrew remembered that conversation! I was a sharpshooter; from100 yards I could pick off a target pretty well. The most interesting part of that is that my first tour of duty out of the Coast Guard, I was on a navigational aid ship that was responsible for New York Harbor and both rivers going up, so East and Hudson Rivers. At that time, things were probably a lot more less automated back then. I know that some of the aids and stations that we were responsible for then don't even exist now. But if you are familiar with that New York area, New York Harbor has this Verrazano-Narrows Bridge. If you go directly out to the Atlantic Ocean straight out from the Verrazano-Narrows Bridge, for 25 miles there is shipping lane that would take you from what was then called Ambrose Lighthouse, it's not there anymore. My ship, the Coast Guard Cutter Sassafras WLB401, was responsible for that light's signal and its crew. It was the last ship to maintain those areas. It was singularly one of the most incredible times of my life to work on board that ship. We saved a couple of vessels that ran aground, we usually went out on high seas and shitty weather. I would be on the crow's nest, 100 feet above the deck of a ship in the middle of the ocean on a sparkling clear night. I still have dreams about it. That's all I can say about it. Dolphins. Pristine views. On board chefs rule. All kinds of incredible things. The Coast Guard. That is such an old memory. Thank you Drew. That's hilarious.
AustinDaze: So you've been in Austin a long time and seen many things come and go and change. Do you feel that life is easier or harder now on musicians than when you started out?
El John: That's an interesting question. Generally, my sense, and I don't know if its that I've grown older and my crowd is essentially a wiser crowd. By that I mean that I don't tend to associate with too many younger musicians. I think they make immature choices. I'm not saying it's a bad thing, but they're just learning. I think its an easier thing for musicians in general in town. There are better opportunities for musicians to get paid. HAAM is part of the community now, where it wasn't before. We used to all gang up on the People's Community Clinic back in the day. They used to provide us nearly free healthcare. So there's those things available. And also, I don't think musicians feel like they have to take advantage of everything free anymore. They've learned how to make a better living and run a businesses. My friends own houses now, they have kids. That's weird. I think the town as a whole, it has comfortably taken in the Austin Weird mentality and the slacker mentality, and incorporated it into a broader personality of itself. I think it's healthy for the town in general. There's a lot of things that are irksome about the growth of the city, etcetera etcetera, but in general, I think the community is dealing with it well. The health of the music community is good. Music is thriving here. There is nothing but opportunity here still. For all the grumbling we could do, I think things are not so bad.
AustinDaze: Give us some advice about from what you have learned in the music scene over the years for others who are giving the music scene at try, like new musicians.
El John: It sounds hokey, but practice and spend time with your instrument. One of the great things about Austin is not every kind of music is well represented; however, a broad spectrum of music is fairly well represented. There is incredible hip hop here that doesn't get a fair nod, and I think the jazz scene is a little light. But, staying on point with the question, stay open to the music that is here. Including the things that you think you know. There plenty of learning and discovery outlets, chances to absorb things that maybe you are not so familiar with. There's also just keeping your ears and eyes open and being quiet and learning from the people around you. I think one of the really cool things that continues to this day in Austin which I still benefit from is that how many well intentioned, good, creative people and business people there are that you can learn so much from. Being open to those things. It is easy to be critical and think you know what you like, but one of the things you learn along the way is appreciating the things that might be a little bit different. So yeah, keeping those ears and eyes open, and being open minded. Practice your instrument. Spend time with your instrument. Don't forget that.
AustinDaze: Tell us the best on the road story from any outfit.
El John: I saw that question online as we came around to this interview. There are so many stories. So many things. I don't know how good this one is, but one thing that comes to mind is that I always love how as you begin playing in different stratas, you start to associate with more and more people who are involved in what you do. On a Thievery Corporation tour once, I found myself in the hotel breakfast buffet line in Rio De Janiero getting eggs next to Patti Smith. I felt my skin bubble up and felt this swell inside me and I was determined to make a reasonably cool greeting to her. I didn't want to be overbearing yet I wanted to acknowledge her. So I turned to her and I think I said something like, "Patti, my name is El John, and I'm a huge fan of yours and it's a real honor to have eggs with you this morning." Something that came out just a little awkward. And she was really gracious and acknowledged, and we just shared a couple of quick stories and went to our separate tables. And as I sat down and I was trying to tell my bandmates what had just happened, I couldn't even get the words out of my mouth because I was bawling. I was so overwhelmed at meeting her that I actually just cried. I'm just so revered by her. There's really hundreds of stories, but that's one that comes to mind. Voila.
AustinDaze: Where/how to you discover/seek music for DJ'ing and do you spin vinyl?
El John: I do spin vinyl. I like Serato which enables you to spin your digital catalogue. You can do it with vinyl, but I don't think its fair to answer the question that way. I also spin my digital catalogue, is what I'm saying. And it's great because records are baggage. That being said, I do spin vinyl. There's definitely a bag of records that includes a lot of Brazil, and some old soul, some Sergio Mendez that is a regular part of my repertoire and collection. A lot of my influence comes from the music that influenced me when I was growing up. Again a lot of old soul, Brazil, I really like vintage jazz, and I like to find ways to mix that in a contemporary way that is fresh and not too sluggish. But sometimes I can get pretty cinematic in my own world with a track and a repertoire and experimental. I like a lot of new jazz artists like Nicola Conti and new Brazilian artists like Seu George and Arto Lindsay. I like to go on a journey that takes you all of those places when I'm DJ'ing a set. I'm definitely more of selector than your athletic DJ.
AustinDaze: How do you stay healthy on the road?

El John: I try to stay ahead of the schedule so that I can plan walks, meals and privacy when needed. Touring demands that you share a lot of time in vehicles, at meals, and sometimes in hotels. I find often that if I plan moves and get going earlier than the rest of the crew I can afford myself a bit of quiet time and that it's really good for me. I also try to eat well and grab frequent naps. Sleep, liquids and fruit seem to be healthful treats on the road. Tea, whole fruit or vegetable juices, and sleep are good.
AustinDaze: With whom was your most epic gig and best backstage story?
El John: Wow, well I have definitely, you know I've had the pleasure of touring stylishly well both with Thievery Corporation and Poi Dog Pondering. And those tours have provided some great travel experiences and amazing venues to play. There are some obvious hits, like Red Rocks in Colorado, which is an off the scale venue. It's built into the side of a rock mountain, Red Rock. Its one of the most incredible venues I've ever been to. There are a handful of places like that. There's a place called The Gorge in between Tacoma and Seattle. I was on tour with Thievery and we were doing a co-bill with The Roots, and I knew we were going to The Gorge, but I didn't really know where I was going. I was completely stunned when I got out of the tour bus and looked at the expanse of where I was. I've been hit with that feeling a few times. But that was one of the most thrilling. Thievery Corporation has played several appearances at Theatro Vrahon Melina Merkouri. It's it is one of the oldest venues in the world, it's an ancient natural theater where Socrates went to speak regularly. I think Thievery still has a very romantic date with that place every year. It's in Athens. It's quite similar in a way to The Gorge in that it's built into the side of a mountain. But literally, you drive up the mountain then once you're at the top, you are playing in front of a sheer wall that is probably three or four hundred feet straight up. It's amazing!! Those are some of the coolest venues. Playing large venues is incredible, and nowadays it's great playing festivals, events like C3 does like Lollapalooza, ACL, you have a built-in audience of fifteen to twenty thousand people sometimes. That's exhilarating on a level. More bands get to play that way because of festivals which is a really cool thing.
Some incredible backstage stories? There's a lot to say. I hardly even know where to begin. I don't know……different degrees of undress with drugs involved comes to mind. One of the things I find amazing, on a Thievery show, or even a Poi Dog shows, I love how bum rushed bands can be be after a show. We have no regard for the etiquette of the venue, like, "We want to keep it small backstage." It's like, fuck you, the party's on. We like to invite our friends. In a band like Thievery, there's 10 or 12 people in the band, and we have hundreds of friends. Hence the party. It's always nice to have your friends, after a great show, come back and celebrate with you. That's always a great experience. Enough said.
AustinDaze: Do you have anything you would like to add?
El John: Not particularly. Thanks for inviting me to have this interview. It's really nice of you.
AustinDaze: Thank you.
El John: Thank you.
In this article