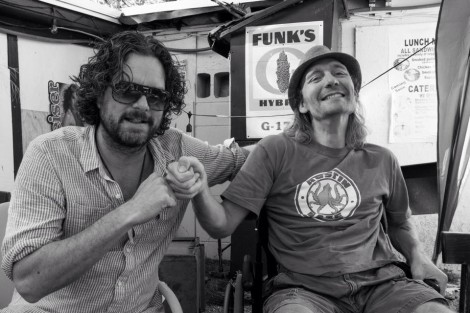 Get to know Topaz McGarrigle with us. Topaz is my favorite sax player in town. There are so many phenomenal players here, so that statement has merit. We became friends long ago. I have followed all of his projects. I just like the guy. He has been a featured interviewee one more time than Toni Price. If you know me, you know that is special. The Daze sign now resides just above the back door of his club, Sahara Lounge. This guy has done much for me over the years. Here is a fond memory and example of that:
"Hey man, would you put together a backup band for a dream gig for me?" "Sure," he replied.
The respect that exists between us is very cool. His new project, Golden Dawn Arkestra, is one of my favorite gigs.  Be sure to check this show out.  For years, I have been referring to Topaz as Carlito.  My name hasn't caught on yet.  However, I'll keep calling him that.  Thanks Topaz for the conversation. Our team this time was Belinda, Rockslide aka Grubbs and me. (Transcribed by CC Bonney.) Thank you for reading…
AustinDaze: Does owning a venue change how you play or think about music?
Topaz: No. Not really. Having the Sahara has been a blessing. We started our new project here, so its been a blessing to have a platform where I can do whatever I want.  It was a great place for the band to start, we can rehearse it, its awesome. It doesn't change anything really. The only thing I've noticed that is sometimes weird about this town is that they bitch and moan about a $5 cover, and then they come in and spend $50 on alcohol. I knew that before, but you see it really up close when you are a bar owner. You want to make the liquor sales, but you're like "Really, you can't spend $5 to go toward the live entertainment?"
AustinDaze: Why did you start playing the saxophone?
Topaz: I started on violin and my mom used to take me down to 6th street. She got into jazz and she used to take me to see a guy named Kirk Weylam. I just loved it, just loved the sound of it. I think that I was in 4th grade. Then after that I used to go back to 6th street and was playing on the street when I was a kid. At a certain point, they tried to install a curfew for people who were under a certain age. I actually wrote the Statesman and the Chronicle and they published my little letter to the Statesman saying like, "I like going to see live music, I'm a musician and I'm 10 or 12."
AustinDaze: Did you know what you wanted to be all along?
Topaz: Yeah, pretty early on, yeah. About that time. Definitely by the time I graduated 8th grade, I knew what I wanted to do.
AustinDaze: Did your family encourage you to keep going?
Topaz: Yes. My biological father is a musician. He was in an old Austin psych band called Cold Sun. And my stepfather was a musician and he played and built instruments, so I was always around music. My mom, at the time she was always a music lover back then she didn't play, but now she plays with the co-owners of the Sahara. She plays here every Saturday. She was very supportive. And she was bit of a slave driver when it comes to practicing and stuff, she would make me practice a bunch. Yeah, it was great. I was lucky. Thanks Mom!
AustinDaze: So you moved from Austin to New York. Why did you choose Austin to continue your career? Why were you in New York in the first place?
Topaz: I first went to New York to study saxophone. I knew I wanted to study jazz and just loved jazz. So I went there to study then I stayed in New York for about 6 years after college. I got a record deal and toured and did all that. Then when that was done…I mean musically, I don't know what the difference would be. Stylistically there is different music, but the community is still a beautiful community of musicians. It's a great musical community in New York. For me, one of the things was that I had become known for a certain style of music and for a certain thing. And I moved back to Austin, one, for probably a life. I was tired of the winters, I wanted a yard, I wanted a garden. But also I felt like leaving New York would help me to expand my musical horizons. Being able to play different styles and different genres. Which has really come to fruition with the Golden Dawn Arkestra.
AustinDaze: You've been all over with all sorts of bands, what do you feel is still special about this town?
Topaz: I'm not sure what it is. I'm biased because I'm from here. It is home and there is a spiritual connection and groundedness that makes me feel comfortable doing whatever I want to do and however I want to express myself. It's very unusual for a city of this size to have this many musicians and such a great scene. That's definitely unusual. New York definitely has as good of a scene, but its, I don't know, five or ten times bigger, or how much bigger it is.
AustinDaze: We have things like the HAAM and community support for musicians.
Topaz: Yeah, the community is amazing with HAAM and the way people help each other out is phenomenal. There is no other city that is like that in terms of the community helping out. It is unparalleled.
AustinDaze: Golden Dawn Arkestra is one of my favorite bands right now!!! And I want to ask you how that came together? And have you ever seen Sun Ra play?
Topaz: To answer the second part of the question, yes, I've seen Sun Ra play. I've seen him play in Austin when I was a kid. It was in a church actually, it was amazing. So he's been a big influence on me for a long time. I saw him also in New York a couple of times. I tried to get lessons from one of the sax players in Sun Ra's band, John Gilmore, who is one of the greatest unrecognized tenor players. Even John Coltrane mentions him as an influence. But he was too sick at the time and too old to teach lessons. What was the first part of the question, how it started? I guess it started very organically. It really just started because I had this idea for a movie and I had this soundtrack in my head. And I just started writing music for this soundtrack. It was like an interplanetary spaghetti western. So I started writing this soundtrack, then I came up with the name, then I just started inviting musicians to come play with us. And it just evolved kind of organically from that. I think because it started with this idea of a soundtrack, it has always been very cinematic. Then the visual aspect came in because in my head it was always a soundtrack to something.
AustinDaze: Then you mentioned that it came together here at the Sahara?
Topaz: Yes, it was easy to book gigs whenever I wanted, and try out different stuff because I have the platform here. Which is what the Sahara is for a lot of people. A lot of people try out different arrangements and concepts and bands because we are off the beaten path and it is very relaxed. There are really magical ghosts here too. There is a lot of history and a lot of ghosts in the wall that talk to you and encourage you.
AustinDaze: So y'all practice here?
Topaz: Yes, we practice here.
AustinDaze: I saw y'all once at the Holy Mountain and then y'all played the benefit with Brownout for my friend with cancer.
Topaz: Yeah. We played at Holy Mountain, then at Sahara at a benefit that Russ put together for a friend of his, the Fuck Cancer benefit. We played with Brownout and we are playing with Brownout on Halloween at the Belmont. We share one of the members of Brownout, and Adrian Quisada helped us produce and mix the album and he's been awesome helping out. Also, its interesting probably for you to have seen us from the beginning. It's definitely still evolving, every show is completely different.
AustinDaze: At the benefit, y'all picked up Laura, and the makeup of the band sort of changed. And then the next time I saw you there were dancers. Does the band keep evolving and changing, and why does that happen?
Topaz: The reason is, that is the whole concept behind the band. The whole concept behind the band is freedom. It is a collective more than a band, it's more of an art collective. My friend Rose Barnett does the costumes. Echo does the dancing and she does costumes too. And Laura does her hoops and her vibes. Even the art on our merchandise. It is multifaceted, and everyone is welcome…if I allow them to be. Ha ha! We come from outer space and there are no limits to what we can do.
AustinDaze: How do you write or come up with material for Golden Dawn Arkestra?
Topaz: I write most of the stuff, and then there is a smaller group of us within the collective that help me out a lot, Greg Rhodes does a lot of the writing with me and Laura Scarborough does a lot of writing with me. So I'll usually come up with ideas, or they will come up with ideas and we flush them out.
AustinDaze: By yourself? Do you write something down?
Topaz: Yeah, usually by myself or in the car. I use the iPhone, it's fuckin' awesome. I love it.
AustinDaze: Are you planning on taking the Golden Dawn on the road?
Topaz: We are doing festivals, we just got back from Art Outside last night. The weekend before we were in Marfa. So you know, we've been on the road, we do some traveling. It's kind of impractical when you think, there are so many people. We are getting calls from Greece. We got an email yesterday that they want to fly us out to Greece to play a psych fest out there. I'm an old man. Young at heart, but I'm an old man. It doesn't matter what band it is, I probably will never go back out and tour in a band for months on end. I don't enjoy that anymore. That's not what I'm interested in. For Golden Dawn Arkestra in general, we get calls all the time to play different clubs. But for me it is the whole package with this band. It's just about the experience and bringing people out of their everyday life, and that includes the environment. If the venue isn't right, I won't play there. Everything is done around the venue. We definitely won't turn into a big tour all year round kind of thing. But we are touring some. We are going to play some festivals in Greece and do a tour in Japan and Hawaii. And that's it.
AustinDaze: Nice, tell us a little about some of the other projects you are involved in.
Topaz: Well, I have the Sahara Lounge. Mudphonic still plays occasionally. Occasionally I play with The Cats from Japan, it's a Bowie cover band. Who else? This has taken on such a life of its own, I don't do much more anymore. Until we get a manager or something, between the club and the Golden Dawn Arkestra, that's pretty much what I'm doing.
 AustinDaze: So you've been in Austin a long time and have seen many things come and go and change. Do you feel that life is easier or harder now on musicians than it was when you first came here?
Topaz: Life is what you make it, man. It's always easy. My life is beautiful always.
AustinDaze: Give us some advice of what you have learned over the years in the music scene for other musicians that are giving the scene a try?
Topaz: Life is great, and life is beautiful, but it is work. It's a job, it's work. It is not all fun and creating. If you want to not have a job and play music, it is work. My advice is that if you want to do what you love, you have to work at it. It doesn't come, it doesn't just fall in your lap. You have to work hard. It's not easy. But you can make it happen.
AustinDaze: Is there anything else you would like to add?
Topaz: Russ has been such a beautiful influence on my life. I really appreciate him and everything that he does and the love he brings to the city. I'd like to thank him for the sign we have over here at the back of Sahara. We go way back and I really admire Russ for everything he does.
AustinDaze: Wow man. Thank you.
Topaz: Thank you.
In this article