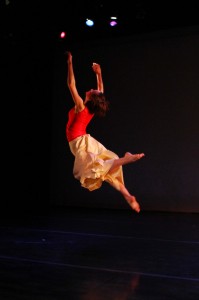 Chaddick Dance Theater Presents "Dark to Light" March 1-4 
WHAT:   A contemporary dance performance by Chaddick Dance Theater that explores the issues of human rights and the importance of peaceful coexistence in our modern world. "Dark to Light" is part of the three month-long
Light / The Holocaust & Humanity Project, a full-length contemporary ballet and Holocaust education partnership that promotes the protection of human rights against bigotry and hate through arts, education and public dialogue.
The four-part performance will incorporate Chaddick Dance Theater's organic, full-body style and signature theatrical expression with such deep-seated cultural and personal issues as spirituality, human rights and bigotry. In addition to the four performance pieces, "Dark to Light" will feature video interviews and testimonials from survivors and other witnesses of the Holocaust as they share memories of their experiences, and their eventual triumph over the tragedy.
For more information about the Light / The Holocaust & Humanity Project, visit www.balletaustin.org/light.
WHEN:                        Evening performances March 1-4, 2012 at 8:00 p.m
Special events, including a choreographer presentation and champagne reception, will follow the Thursday and Friday night performances.
WHERE:          Austin Ventures Studio Theater at Ballet Austin
501 W. 3rd Street, Austin, Texas
TICKETS:          Tickets $18 in advance at www.chaddickdancetheater.com.  $20 at the door.
"Dark to Light" and the Light / The Holocaust and Humanity Project are funded and supported in part by the City of Austin through the Cultural Arts Division believing an investment in the arts is an investment in Austin's future. Visit Austin at NowPlayingAustin.com
CONTACT:      
Kelsey Kemper
214.733.3636 m
In this article