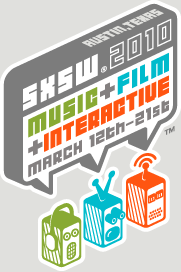 The Austin Daze was all over town during SXSW Music. We learned a lot about new music, tight hipster jeans, the rock star cred gained by blowing out power fuses, and crowds that don't know what band they just heard (but like them anyway).
Most SXSW day parties have crowds standing motionless in tight-fitting jeans and gazing quietly ahead. The Carolina Chocolate Drops proved themselves a great party band; at the Paste Magazine party their old-timey string music had a room full of white hipsters cutting a jig and hollering at jug and kazoo solos.
SXSW is always good for surprises. Especially when hearing a band you've never heard of before. Denmark's Choir of Young Believers displayed their ability for songs that start soft with haunting indie-folky melodies, then build up into loud anthemic explosions. When it was all over, I asked one of the sound guys what the band's name was. He replied "I don't know, but that was the most EPIC band I've seen yet".
Another great surprise was the band backing German-Nigerian singer Nneka. On her album,Nneka's sauntering voice is layered over slick production sounds. Live, Nneka puts on a great show, replacing the polished studio sound with a powerful live band. Rail thin and wearing an army fatigue jacket, Nneka projected an energy from stage that mesmerized the crowd. Yet again, I had to ask "who is this?". Yet again, I got the answer "I don't know. But she's good!".
Bands can make bad albums yet have good live shows (and vice versa). Black Dynamite Sound Orchestra's showcase at the Scoot Inn proved they can be good both live and in the studio. Their live show was another small surprise. While the album was clearly old-school soul influenced, their live show played the same music, but loud and aggressive. Is Heavy Soul a genre?  It is now.
The Austin Chronicle's SXSW Film Party provided a rare treat from the Kashmere Reunion Stage Band. Picture Duke Ellington funkifying his big band sound by merging with James Brown's full band. These former Kashmere High School students – three rows of brass and woodwinds, plus double sets of drums, bass, guitars, and keys – showed everyone in attendance just how they ruled the world in the 70s. The Reunion Stage Band will be in the spotlight more as positive word of mouth continues to spread about their documentary Thunder Soul.
The Elias Haslanger Jazz Quintet's showcase at the Elephant Room was a revelation. Haslanger's regular shows at the Elephant Room are three sets that last all night. The Quintet's SXSW showcase condensed their all night affair down to one fiery set packed with their own compositions. It's good to know Austin jazz musicians can do their own thing here, and not have to pander to crowds asking for covers of old songs.
Stardeath & The White Dwarfs are not afraid to pack a stadium show into a tiny bar. The band spent time as roadies for the Flaming Lips, who obviously taught them a thing or two about stage theatrics.  Stardeath's fog machine was powerful enough to fill a hockey arena with hazy smoky air, but that didn't stop them from cranking it at full blast in a bar snugly holding 200 people. The band's wall of custom lights looked cool in the haze, even if the smoke machine smelled like burning tires. With only one album of material, their shows are on the short side.  That didn't stop me from seeing them twice, they played a second official showcase as a closing act the final night. I walked into the Stardeath show right as the band literally blew out all the power for sound and lights in their half of the room. Their inner rock star was too much for one bar to hold. Well done. A fitting way to end SXSW 2010.