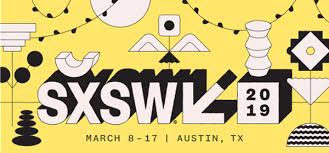 Surviving SXSW unscathed is definitely a delicate dance. This year, be sure to check yo' self before the scooter epidemic wrecks… yo' self. Be smart, be safe, and always bring a lil snack or something for those long lines.
Although I do enjoy getting out later in the week to shake my tush while discovering some great music, my main squeeze is spending time in a dark theater enjoying the myriad of films that get to premiere at SXSW. Always try to grab a mixed bag of the big distribution films at the Paramount/Stateside because the crowd's energy is simply unbeatable, while also playing roulette with the unknown or lesser known flicks. You can get the infectious hype from the big name premieres and unexpectedly discover smaller gems all in one fell swoop. It's what makes SXSW Film work every time.
Some things on my radar this year:
Us
Jordan Peele nailed it with his directorial debut, so I have nothing but faith in his abilities with his second film, Us, about a family who is being terrorized by their frightening doppelgangers. I'll never be able to listen to "I Got 5 on it" ever again after watching that trailer. Us looks absolutely terrifying and I can't wait!
The Beach Bum
It's a Harmony Korine film for starters (Kids, Spring Breakers, Gummo). Starring Matthew McConaughey as "Moondog", the beach bum, and featuring Snoop (Lion?) Dogg, Zac Efron, & Isla Fisher. It's bound to be the trashy smut Mr. Korine puts out that's perfect for the festival.
Salvage
A curious documentary about the Yellowknife dump, one of the largest North American dumps, open to the public. No need to search for things in stores when you can obtain them from wandering around a dump. A place where all trash may be treasured?
Porno
A group of misfit teens working at a movie theater discover that before it was a family friendly place, the theater's history entertained a more perverse kind of audience. Apparently they discover a sex demon along the way.
Who Let The Dogs Out
Ben Sisto: collector, curator, and artist, has spent almost a decade cultivating material to direct a documentary about the iconic track by Baha Men, "Who Let The Dogs Out". I just want to see how there is enough material for at least a 70 minute documentary and I truly want to know, who indeed let the dogs out?
NOS4A2
Premiere episode of AMC's limited series, NOS4A2, about a woman who has the ability to find things that are missing or lost. She encounters, Charlie Manx (Zachary Quinto) who feeds off of children and sends their remains to a place in his twisted imagination, Chrismasland. This bizarre tale comes from the novel by Joe Hill (Horns).