Saturday night was the final night of SXSW for Russ and me, and the end to 10 days of madness in the city of Austin.  We decided to head over to the ACL Live and check out John Fogerty of CCR.  We got there and there were a few opening acts.  We saw a really old-school country singer by the name of Bobby Bare jr..  For a song he brought out Alejandro Escovado.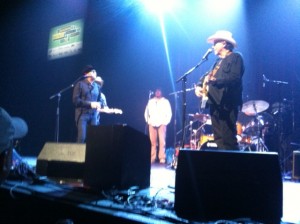 It was cool to see the two collaborate.  Next was Alejandro Escovado's band True Believers that took the stage.  They were an old-school rock band that really rocked out with some awesome solos.  The combination of the two guitars going off together was pretty amazing.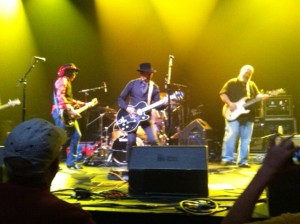 Finally at around 10 pm John Fogerty and his band took the stage.  It was pretty surreal seeing a guy that I listened to a lot growing up playing his jams right in front of me.  It was like a CCR live greatest hits album, with hit after hit being played by Fogerty.  He brought out a band that I have always wanted to see, Dawes, for the song Someday Never Comes.  It was unreal to see the collaboration between Dawes and Fogerty.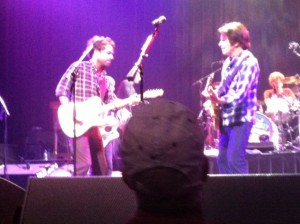 Throughout the set, he changed guitars a bunch of times, but for "Centerfield", he brought out a baseball bat guitar, which was the coolest style guitar that I've seen. He was probably one of my favorite shows of the trip.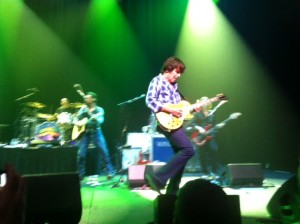 It's incredible to me how a guy who's close to 70 years old can play such a lively show and run around stage the way that he did.  His voice sounded just like it did on his albums.  Overall, it was a great way to end the festival.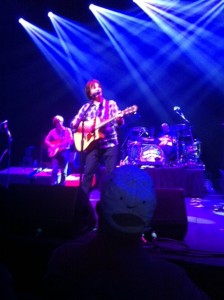 I was sitting in the airport looking back at all of the music and film that we saw.  We saw so many great movies of all genres and so many shows from all genres of music.  We  saw everything from funk, to classic rock, to soul, to country, to blues, to acoustic singer/songwriter folk stuff.  The week encompassed a lot of genres that I wouldn't have normally listened to but ended up loving by the end of the trip.  I'm really happy and grateful that Russ gave me an opportunity like this to see all of these awesome screenings and shows and meet all sorts of really interesting people.  It was awesome to be able to hang out with my cousin for the week and go on all of the adventures that we went on.  It was a great year to be able to experience the SXSW madness.  I'm hoping to be able to come back to hang out in Austin sometime soon!
In this article