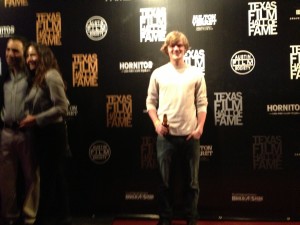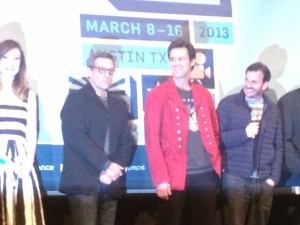 Hey there, I'm Russ's cousin, Greg. I'm pretty excited to see the madness of this city during the next week. So far, we've done some pretty awesome things. We started out our adventure Thursday at te Texas Film Hall of Fame Award Show and after-party. We got to see a ton of well respected actors and directors who have made an impact on filmmaking from Texas. I didn't really know what to expect, but Russ didn't disappoint. Among the stars there was, most notably, Quentin Tarantino.
Last night we went to see a double feature at the Paramount including The Incredible Burt Wonderstone, and the remake of The Evil Dead. The first film, The Incredible Burt Wonderstone had a pretty stellar cast with Jim Carrey (who actually went up to Russ to say hi and shake hands), Steve Carell, and Olivia Wilde. All of them were there for the Q&A that followed. Next we saw te remake of Sam Raimi's classic film, The Evil Dead. This movie was had a ton of gore, almost hard to watch at times, but had me seriously jump a few times.
Today we saw a documentary film called Fuck for Forest. It was a crazy documentary that was hard to follow at times about a cult's unique way of trying to preserve the environment. As of now, were waiting to see another double feature at the Paramount including the films Drinking Buddies and Before Midnight. Updates to come, but so far an awesome start to SXSW.
In this article