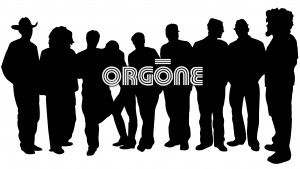 The Austin music scene has been injected with a heavy dose of funky soul thanks to locals like T-Bird & The Breaks, Black Joe Lewis, and Brownout. Well Austinites, meet Orgone, your West Coast counterparts, and one of the top five bands you need to see at SXSW. Orgone weighs in at nine members, including guitar, bass, keys, drums, percussion, a three piece horn section, and a dynamic singer. Influences range from Memphis soul to Nigerian funk, with new sounds fused from the old roots. Every time my iPod is on shuffle and plays Orgone's song "Crabby Ali" I swear it's an original Meters track circa 1972's Cabbage Alley.  Orgone can perfect the Meters sound when they want; they can perfect the Afrobeat sound when they want; but their head, heart, and soul go into creating their own unique Orgone sound. Orgone has two official showcases, and you know SXSW gives most bands only one slot, so go see for yourself what impressed the SXSW staff.
(more after the jump)
Orgone comes from a tight-knit music community in California. Members of Orgone have been part of two other bands playing SXSW this year: Fitz & The Tantrums and Breakestra. The Orgone family tree branches into Connie Price & The Keystones, which in turn also shared members with Breakestra. Extended Orgone family members include soulful-singer-songwriters Danny Chaimson and Megan Jacobs (who are also invading SXSW this year). Orgone was the backing rhythm section for Danny Chaimson's new record, and Orgone's Fanny Franklin sometimes sings with Megan Jacobs. See what I mean about tight-knit community? The cross collaboration between these SoCal musicians has helped them all find new sounds to call their own.
Orgone has been to Austin before as the backing band for The Pharcyde. I was on my way to that Orgone/Pharcyde gig at The Parish, literally walking in the door of the club, when a cop on the sidewalk yelled at me for jaywalking. Future jaywalkers, here's a hint: never laugh and say you thought jaywalking tickets only happened in movies. Your sense of humor won't be appreciated. Thanks to SXSW, I get a chance at redemption, and hope to prove I can go see Orgone without jaywalking. Once inside, I may do the Camel Walk or Moon Walk, but no jaywalking will occur outside.
We tracked down Orgone a few days ago, and found them on tour with Ozomatli, somewhere in the snow covered Rockies of Colorado. Orgone's singer Fanny Franklin graciously took time to answer a few questions.
Is this your first time to SXSW?
Yes, this is the first time that Orgone will be playing at SXSW!
You'll be traveling to Austin, any road stories from recent travels?
Road stories? Many gas station meals, half hot dogs! We've been having so much fun opening for Ozomatli, they are a wonderful crew of musicians/people and every night watching their shows has been a real treat! The crowds in Colorado have been very receptive and lively! All the slots we've been getting recently, opening for Al Green, the Roots on NYE, Galactic, Greyboy Allstars. We are honored to be able to open for such class acts!
Any new music on the horizon for Orgone?
We're real excited to be releasing a new CD in probably late spring/summer time! We put a lot of love and work into the latest project. Orgone really wants to represent the sounds and the place we are from, Cali Fever!
SXSW is all about movies and music. If your band could be any movie, what movie would it be?
We're all fans of the movie "The Rockers"! Classic movie, killer soundtrack.
What's your earliest memory of hearing music? 
For me personally it was Michael Jackson! But 9 members 9 different experiences. Orgone are big fans of the Meters, Fela, Funkadelic, Booker T and the MG's, Jimi Hendrix.
Hopefully your SXSW won't be all work, and you find time to just be a music fan and hear some others play.
Yeah we'll be there from the 17th-20th so I'm sure we will be gettin into some things!
Any acts you want to see while in Austin?
I'd like to see my buddies Grillade from the Bay.  We backed up rapper Bun B on previous tours and would like to catch up with him. Also Fitz and the Tantrums. Honestly not sure who's playing but we're open to experiencing whatever musical goodness SXSW has to offer!
Any last words?
We love Austin, it's a music lovers town and we always have fun playing there!
 
Orgone's  SXSW 2010 appearances:
Weds 1am – Flamingo Cantina
Thurs 9:40-10:10p – Rusty Spurs
Sat 7pm – St. Vincent de Paul (next to Continental Club)