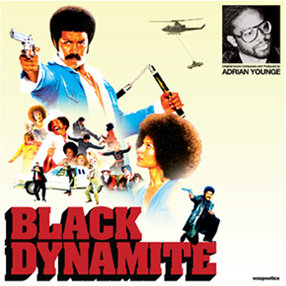 One SXSW show not to miss Thursday night is the Black Dynamite Sound Orchestra.  Black Dynamite is a 2009 film that both paid homage and satirized the great Blaxploitation films of the 70s. The main character is Black Dynamite, a former CIA agent, who battles dealers pushing heroin to kids at the orphanage, uncovers a plot by the Man involving Anaconda Malt Liquor, and goes to Kung Fu Island to kick some ass. The plot is outrageous, but the filmmakers were dead serious about the music.  Multi-instrumentalist Adrian Younge created an original score inspired by those Shaft and Superfly soundtracks of the 70s. The score uses old wah-wah guitar, Hammond organ, Rhodes piano, and Hohner clavinet; but the music Younge composed is filled with fresh ideas. Consider it new adventures in old sounds. Black Dynamite Sound Orchestra brings it to SXSW on March 18th. Composer Adrian Younge talks with Austin Daze about his SXSW trip:
 
This will be your first time traveling to Austin for SXSW. Any road stories from recent travels?
We traveled to Sundance in January (a 12 hour trip) and we went through a snow blizzard.  Was definitely crazy, but we had fun. We watched documentaries on musicians such as Anvil and Marvin Gaye.
SXSW is all about movies and music. If your band could be any movie, what movie would it be?
My band actually has the fortune of being an extension of the movie Black Dynamite. We are very happy with our association and will live through it in perpetuity.
What is your earliest memory of music?
My earliest memory of music is when my father would play old soul and reggae in the car; must have been about 4 years old. 
Hopefully your SXSW won't be all work, and you find time to just be a music fan and hear some others play. Any acts you want to see while in Austin?
Definitely want to see Chico Man and Smokey Robinson; I know there will be others but I have yet to review the list of performers at SXSW.
Any last words?
We will be at the Wax Poetics & Dub Spot Showcase, March 18th at Scoot Inn.
Get a taste of the Black Dynamite music here:  
http://my.sxsw.com/events/eid/10173
Black Dynamite Sound Orchestra plays the Scoot Inn, Thursday March 18th at 1am.
In this article