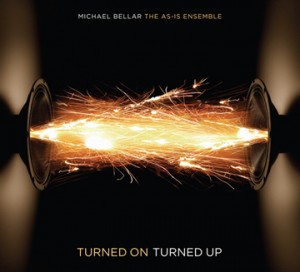 Here we are in the final stretch of the SXSW music marathon. Walking around town this week can put enough mileage on your shoes to flip the odometer. The Elephant Room is a great place to sit down and listen to some music, offering a nice break from having your eardrums assaulted at rock clubs. The Saturday night lineup at the Elephant Room is an eclectic mix of jazz, gypsy swing, Cuban pop, and weird Japanese bands.  Local jazz favorite Elias Haslanger plays at midnight, then at 1am is Michael Bellar & the AS-IS Ensemble, an interesting jazz group from NYC.  Michael Bellar is a successful session keyboardist, recording and touring with Amos Lee, with high profile festival and television appearances under his belt.  Michael is not just a side man, but also a band leader, who created the AS-IS Ensemble as an outlet for his own compositions. The AS-IS Ensemble has been the house band at NYC's legendary Blue Note jazz club, and has opened for hard to classify jazz acts like John Scofield and Medeski Martin & Wood.  On a mini-tour of I-35, the AS-IS Ensemble plays San Antonio and Dallas before making their first SXSW appearance. Visit their SXSW page below for a taste of their song "Squashing Pollyanna".  Expect a energetic set that lets you relax and wakes you up at the same time.  Michael Bellar had some fun playing along with the Austin Daze questionnaire game:
Is this your first time to SXSW or Austin?
This is the first trip for the AS-IS Ensemble to Texas, but I've played at the Austin City Limits festival before with Amos Lee.
 
You'll be traveling to Austin, any road stories from recent travels?
Man, wouldn't you like to know.
 
SXSW is all about movies and music. If you could do a soundtrack as your own, what movie would it be?
Would love to do a soundtrack for Peter Hedges. If my band could be a movie, Godfather 2 or American Beauty.
 
What is your earliest memory of music?
Paul McCartney's 'Let em In' was the first radio song that kicked me in the head. I remember going to the piano and "writing my first song," which turned out to be the chords and melody to Pete Townsend's – "Let My Love Open the Door." So it was – I didn't get the copyright.
 
Hopefully your SXSW won't be all work, and you find time to just be a music fan and hear some others play. Any acts you want to see while in Austin?
Unfortunately we won't be there long enough. We come in that day and leave super early the next morning. Next time gonna hang.
 
Any last words?
Papoose.
 
Michael Bellar/the AS-IS Ensemble play the Elephant Room at 1am Saturday March 20th.

http://my.sxsw.com/events/eid/8403
http://www.michaelbellar.com/
In this article