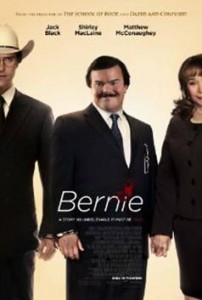 Meet Bernie (Jack Black), the nicest guy in the small rural town of Carthage, TX. He volunteers for charity, directs local community theater, goes above and beyond the call of duty as assistant funeral director, has a lovely singing voice that he lends to gospel classics in church, checks in on grieving widows in his spare time, befriends the most reviled woman in town, and kills her.
"Bernie" is based on a crime story that proves the adage "truth is stranger than fiction."
There is so much about the film (and Bernie) that is odd, and often endearingly so. The story is structured around interviews of quirky and colorful local residents who are eager to share their thoughts about the crime. These are interspersed with re-enactments of the events as they unfolded in 1998. It's at once funny and chilling that most everyone in town sides with Bernie even though he confessed to shooting an elderly woman four times in the back.
The offbeat tone of the film is established in the opening sequence in which a competent and cheerful Bernie demonstrates to a class of future-morticians how to make corpses look good. (You'd be surprised how much super glue comes in to play.) The pride he takes in his work, his respect for the deceased and their families, the sing-song delivery of well-chosen words, and his stereotypically homosexual mannerisms establish a character that's both funny and intriguing. He has got to be the happiest mortician on the planet.
When we next see Bernie he's on his way to Carthage for a new job, singing a peppy spiritual with comic gusto and abandon.  Right away, one wonders if anyone can truly be this upbeat. Is he up to something? Is this guy for real? Jack Black plays the character utterly devoid of guile, let alone malice. So when he settles in Carthage, becomes the most popular man in town, and then endeavors to befriend the recently widowed and infamously wretched Marjorie Nugent (Shirley MacLaine), it's not hard to believe that he's simply doing it out of kindness. Only one man, the local D.A., thinks Bernie connived his way into Mrs. Nugent's life in order to get his hands on her fortune.
Bernie and Marjorie develop an unhealthy co-dependency that takes some surprising turns and brings up some needling questions. Who's using who? And how calculating are either one of these characters? The film doesn't really take a stand on this. It lets the locals say their piece, but ultimately it simply presents the facts without judgment or manipulation. They were friends, they travelled together, got spa treatments together, he made it into her will, and somewhere along the line Bernie went from being her constant companion to something of an indentured slave. Then one day he shot her.
Enter District Attorney Danny Buck Davidson (Matthew McConaughey), defense attorney Scrappy Holmes (Yes, these are their real names!) and a juicy trial that brought the media circus to small town Texas.
Most performances in the film are splendid, particularly the quirky "locals" who provide an often hilarious running commentary chock full of colloquialisms that ring surprisingly true (McConaughey's mom, Kay McConaughey, among them.) Director Richard Linklater is from Austin, of course, but by way of east Texas originally. He knows these people and captures them well. Lest non-Texans think these are exaggerations, I can attest that I'd be rich if I had a dime for every time I've heard the expression "I guaran-damn-tee ya." Yes, people really talk like that.
Jack Black's earnest and sincere portrayal of Bernie is highlighted by his lovely singing voice. He has the opportunity to show off his pipes here and there's no denying his musical talent when he's not goofing around. He even does a bit of song-and-dance that impresses and makes one wonder what he could do with a shot on Broadway. Shirley MacLaine plays her familiar grumpy gussie without much subtext or humanity.
McConaughey shines as the D.A. who can't believe his eyes and ears when an entire community (including the pastor) sides with the murderer. D. A. Davidson is a bit of an a-hole who mentions "closet homosexuals" more than necessary and asks Bernie on the witness stand if he knows what wine goes with fish… as if that's somehow a damning factor in the trial. Though the D.A. may be a publicity-whoring jerk, he also happens to be right on at least one score: murder is murder, whether the victim was a total bitch or not.
The film's only weakness is that it doesn't seem to be quite sure what it wants to say about these proceedings. There isn't much of a take-away when all is said and done, except that a good time was had at the movies.
It's unclear how this will play outside of Texas, and it's a hard film to categorize in general. It's not exactly a dark comedy – it's pretty darn perky. But there is the problem of a dead old bitch in a freezer. If offbeat is your cup of tea, I guaran-damn-tee you'll like this one.
4 of 5 stars
SXSW screening of Bernie is Wednesday 3/14 at the Paramount Theater.