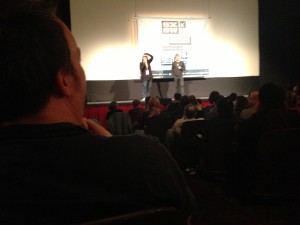 Saturday's double feature started with Drinking Buddies, starring Olivia Wilde, Anna Kendrick, Jake Johnson, and Ron Livingston. The film was a pretty funny and accurate depiction of the simple/complicated dynamic of a relationship. During the Q&A, the director talked about how most of the writing process was mostly was unscripted and the film was shot on a single camera, which was pretty incredible to me and shows the talent of the actors.
The second film was Linklater's Before Midnight, a highly anticipated film for Russ. It definitely didn't disappoint. I liked how it showed a great evolution of the relationship between Ethan Hawke and Julie Delpy. The film series, which has spanned over just under 20 years, left me thinking if there will be a fourth in another 9 years.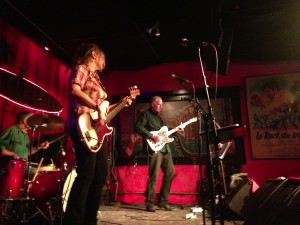 On Sunday, Russ and I decided to take a break from film and catch some of his favorite live music. We started out seeing Jo's House Band, which featured an awesome guitarist, Willy Pipkin and an amazing fiddler, Warren Hood.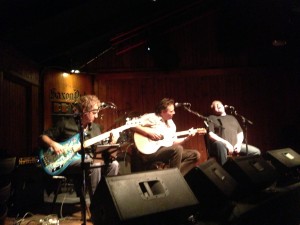 From there we went over to the continental club to see Planet Casper. Some awesome blues was heard. Casper killed it with some of his mind blowing solos. I was impressed with the venue and the talent I heard. From there we headed to Saxon's Pub to see the Resentments. Russ hyped them up pretty hard and they definitely lived up to it. It was some of the best live music I've heard. The dynamic between the three of them was pretty incredible. They brought out Malford Milligan for some vocals on a few tracks.
I don't think I've heard anything close to as soulful as that dude was. His voice was so distinct and passionate and really sounded awesome. Overall, today was a great introduction to the Austin live music scene. After all the music we went to see Spring Breakers, a wild spring break experience. James Franco was the highlight of the film for me.
Today, Monday, we started out watching a film called White Reindeer, which was a pretty good screenplay. The acting could've used a little work, but for the budget it was a pretty well written and entertaining film. Next we heard over to te paramount where we saw the Stephen Hawking documentary entitled, Hawking. It was a really moving film about a guy who continually defies odds (in both science and life) and gives people a reason to believe that they can truly do anything. It was a film that I definitely recommend everyone see once. To cap the day off we watched Joseph Gordon-Levitt's directorial debut with Don John. This film was probably my favorite of the festival so far. It was really well written, well shot and well acted. For the Q&A Gordon-Levitt came out as well as the producer and some co-stars (one of whom was Tony Danza). It was an awesome day for movies. Updates are coming on the rest of the week.