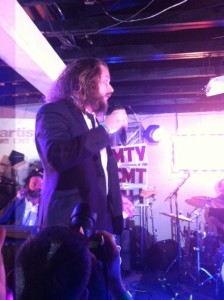 Today was the end of our film daze and the beginning of some music.  We started out the afternoon seeing a film called "Rewind This".   It was a pretty interesting documentary about the nostalgia of VHS tapes.  It was pretty funny at times hearing these guys talk about some of the hilariously bad VHS tapes that have been put out.  Collectors seem to thrive on the fact that some films were never made into DVD's or Blu-Ray (Boo-Ray as they called it in the film).  It brought up apretty interesting point that we should save this form of media to have a record of some of the tapes that were put out on that format that many grew up on.
From there we went to see Toni Price at the Continental Club on Congress.  She was backed by a bunch of really stellar local musicians Willie Pipkin, and Warren Hood, and Marshall Hood.  The blues riffs done by all of them throughout the songs were awesome.  From there we headed over to the Empire Control Room to see Jim James.  I have always wanted to see Jim James and My Morning Jacket, so this was a super exciting gig for me to go see.  We got there and saw two bands before Jim James took the stage.  The first was Youngblood Hawke, who had some pretty catchy songs with some cool drums throughout their songs.  The second band was a rock band, Gaurds.  Their lead singer/guitarist played the guitar in a pretty weird/cool way during his solo.  I didn't really get what he was doing at first but he was running the strings of his guitar against a metal pole at one point to create a crazy scratching noise from his guitar.
Then finally Jim James took the stage, a little later than expected, but was incredible to say the least.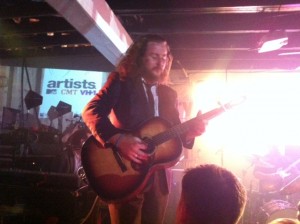 I was interested to see how he was going to do the live solo show.  When I read about/listened to his new solo album, I found out that he played all of the instruments on the album everything from a guitar to a saxophone.  He pulled it off with a band and some background recordings.  His solos during some of his songs blew my mind.  He started out with one of my favorites off of his new album, "State of the Art", and ended that song with an awesome guitar solo.  Throughout some of his other songs he ended with a solo on a saxophone.  The combination of all of the instrumentation and his voice was almost moving in a way.  The show definitely lived up to and exceeded my expectations and I'm glad that Russ and I got to catch the show.  Not too sure what today has in store for us, but I'll be back with some more updates later.