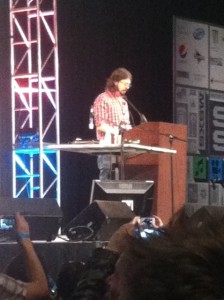 Yesterday, Russ and I had a pretty packed day with lots of live music.  We started out the day by heading downtown to the Austin Music Awards where we got to see all of the great performances during the show.  A new band (new to me) that stuck out to me was "Brownout".  They were a Latin funk kind of band that had so many elements of different genres.  All of the horns, guitars, drums and bass mixed together really well to create some really cool tunes.  We then got to see Ben Kweller perform a few tunes that were pretty cleverly written, with melodies on the acoustic guitar that really popped.  After staying around for some awards and learning more about Austin music, Russ and I went back to a press room where we hung out with some of the performers/winners and I got to meet some really cool people like Ephraim Owens and Gary Clark Jr.  I didn't realize that my cousin was good friends with a such an amazing artist like Gary.  It was pretty tight to be able to meet a guy who's music I have incredible respect for and listen too on a consistent basis.  Later, after going back into the award show, we got to see Gary accept something like 8 awards, all of which were pretty well deserved in my opinion.  Bill Carter made some noise with his performance at the end of the show.  After playing a few songs with his band, he brought Gary Clark Jr. on stage to play a few with them, which was pretty awesome.
From there we went to see Iron and Wine perform at the ACL.  The venue was awesome!  I'm pretty excited to see some shows there tonight with Russ.  We got to see Sam Beam perform mostly new stuff off of the record soon to be released by him.  He sounded great especially in that venue.  The band around him was awesome as well.  The incredible thing for me was that he and the band had only been playing together for like a week before the performance.  I guess there are a lot of songwriters here at SXSW that have to get a band together like that, but after hearing that it made me appreciate the songs even more.
This morning, Thursday, I woke up early and went to see Dave Grohl give his keynote address.  First of all, I saw a really cool band Black Violin open up for the speech.  It was pretty cool to see some hip-hop beats mixed with dueling violins, with a bass and a drum set.  Then Dave came on.  Now I'm not that big of a fan of the Foo Fighters, but there is something about Dave Grohl that I really like.  He's a really inspiring guy.  Don't get me wrong the Foo Fighters aren't terrible, but the work he did with Kurt and Nirvana was awesome.  After seeing some of his acceptance speeches at award shows and reading up on him a bit more, I knew that this wasn't something I wanted to miss.  He definitely didn't disappoint.  If there's one phrase that described the speech it is, "the musician comes first".  He talked about the art of making music and how he started.  He talked about music as a kid and how he loved music because it was an escape from society.  It was something he could call his own, an independence of sorts.  Then he went into some detail about the start of Nirvana and the start of the band.  A lot of the speech was about how music isn't about the industry, labels, being perfect, or any of that business.  It's about the heart and soul that you put into your music that really matters.  The major theme that I pulled from the speech was to embrace what you were given.  Embrace the human element and just create music.  That's how you create something real.  This speech really resonated with me as I'm sure it did with everyone else, and I'm glad that I went.  I definitely recommend that everyone takes a look at the speech, I'm sure the video is online somewhere like NPR music or any other major music site that's covering SXSW.  Today we are heading over to the ACL again to catch the Daptone Records showcase.