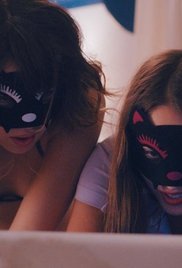 Teenage Cocktail may be one of the most honest modern flicks I've seen about exploring and eventually exploiting sexuality and the empowerment that can be gleaned from those early experiences. Teenage Cocktail may be likened to films like Thirteen or even Spring Breakers. To say that it is portraying modern teenage girls suffering from "affluenza", would not give the film or characters enough credence. Does it have elements of petulance and entitlement seen from teens? Sure, but it also shows the fearlessness of being that age and living for the moment with no concern for tomorrow.
If nothing else, Teenage Cocktail starts off as a budding love story between two friends. Annie (Nichole Bloom) and her family are new to a small town. Having trouble making friends at her new school, Annie discovers Jules (Fabianne Therese), and the two quickly become intertwined in a very intimate way. What starts off as a very light film with milkshakes in a diner, Teenage Cocktail quickly turns into something riskier and dangerous. Annie and Jules feel stifled by their small town and make lofty plans to flee to New York together. In preparing for this journey, they need money in a big way and go about making it by setting up a webcam. When their lives intersect with Frank (Pat Healy notably from Cheap Thrills), a creepy online fan, things get fairly dark.
The leading ladies really steal the whole movie with their dynamic and display of acting chops. Annie's parents are also notable characters that get fleshed out in the film. Instead of being overbearing parents coming down on her, they fall more on the spectrum of hands off parents trying to relate by being cool, yet are left in the dark because of Annie's shut out teenage tendencies. This was a nice change from what has traditionally been seen in movies about troubled teens. There is one scene that is fairly awkward to watch with Annie and her father, who discovers what Annie and Jules have been getting into online, but the overall image is somewhat ambiguous or up to interpretation. Teenage Cocktail also stands out for me because Annie and Jules may be troubled, but they aren't completely clueless. They get in over their heads and fall down the rabbit hole, but their overall teen angst and drama is minimal to the story, which in turn makes them more complex or interesting characters to watch.