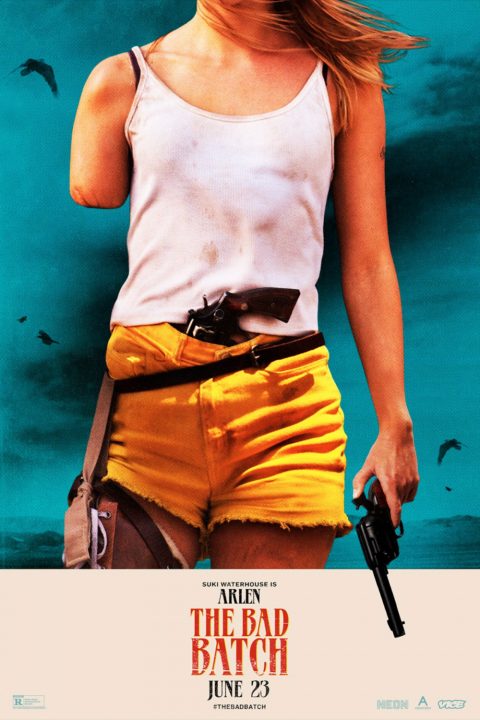 Would you pay an arm and a leg to find The Dream? Is Post-apocalyptic cannibals your thing? Then you'll probably eat up The Bad Batch. It's easy to throw in the Tank Girl/Mad Max dystopian comparison, but really the film plays out more like an ordinary day at Burning Man. Written and directed by Ana Lily Amirpour (A Girl Walks Home Alone at Night) who was also in attendance for a Q&A with leading actress, Suki Waterhouse.
The opening scene of the Bad Batch follows Arlen (Suki Waterhouse), who after getting dropped off in a Texas wasteland separating the rest of the world from the miscreants, has a run in with cannibals who want to have her for dinner. The Bad Batch players include: the aforementioned cannibals, outcasts, the mentally ill, and gnarly scavengers (notably Jim Carey as "Hermit"). The Dream (Keanu Reeves with a sweet moustache) is real and you can find this savior and his harem of gun toting pregnant women in the outpost called Comfort. By day, Comfort is filled with the mindless yammering's of The Screamer (Giovanni Ribisi), trade posts, and a very popular Noodle cart.  By night, Comfort turns into a bass driven rave party with all the drugs you could want and pretty glow lights.
There is probably no dialogue for the first 15-20 minutes of the film. Storytelling through visuals and sound. No voiceovers, no crammed dialogue. In fact, there is minimal dialogue in the entire film and a lot of attention to sound editing and cinematography.  Amirpour really created a beautiful wasteland and the costume designs are on point as well. One nitpick might be that at time the film may seem to drag, but it's also just taking its time with plenty of wide shots and desert trekking.
The Bad Batch is a must see for the beautiful editing and cinematography alone, but if you are into post-apocalyptic flicks, and who isn't, then you'll definitely enjoy this one.