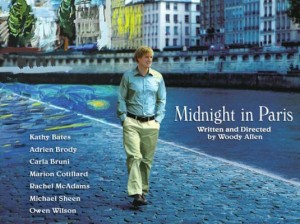 Apples and oranges. You can't compare'em. Just like you can't compare Woody Allen's quaint "Midnight in Paris" with Terence Malick's sprawling "The Tree of Life."  So instead of ranking the best films of 2011, I'll simply list them in alphabetical order. Suffice to say, each in its own way has left an indelible mark on the art of film. My personal criteria for making such a list is as follows:  artistic and technical merit, the likelihood that it will stand the test of time, the number of truly memorable scenes it contained, and the degree to which it achieved its aims in moving the audience.
The Artist – A toe-tapping, heart soaring delight that celebrates the art of silent film.
The Descendants – Alexander Payne's layered and humanistic comedy/drama about loss and family.
Drive – An exercise in retro cool that solidifies Ryan Gosling's ever increasing status as a badass.
Hugo – Martin Scorsese's masterful homage to early cinematic innovation.
Midnight in Paris – Woody returns to form, still making us laugh and think after all these years.
Moneyball – Who'da thunk a movie about baseball statistics could have so much heart?
A Separation – An enthralling drama from Iran about a broken family. Foreign yet painfully familiar.
Take Shelter – An exercise in true suspense that heralds a storm, and the coming of director Jeff Nichols.
Tree of Life – Terrence Malick's sweeping symphonic masterpiece about God and Man.
War Horse – Steven Spielberg's old-fashioned epic about  humanity amid the inhumanity of war, and a horse who finds his way home.