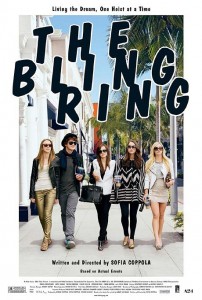 The latest effort from Sofia Coppolla, The Bling Ring, is a sparse reflection on our celebrity fascinated culture that examines the lengths some people are willing to go to in order to become a part of the A-List scene. It's easy for the average American to see superstars, many of whom are famously famous only for being famous, and envy their lifestyles with their designer clothes, endless supplies of cash, and total recognition. Inspired by a surprising true story of a group of LA youths who let their obsessions take control, The Bling Ring is an entirely objective portrayal of what can happen once things are allowed to spiral helplessly off the map.
The film takes its inspiration from the Vanity Fair article The Suspects Wore Louboutins, which examined the case of a group of well-to-do spoiled high schoolers who embarked on a spree of breaking into the houses of the rich and famous in order to try and become a part of the lifestyle they so envied. It's a fascinating story, to be sure, but as a dramatization the tale becomes somewhat flat.
Young Marc (Israel Broussard) is a new arrival to a Los Angeles alternative school, desperately seeking acceptance from his peers. Plagued by his outsider status and typical awkward teenager afflictions, he's more than eager to latch onto anyone willing to give him the opportunity. This opportunity comes in the form of the lovely and charming Rebecca (Katie Chang) who quickly woos Marc into his fabulous clique of beautiful young trendsetters and social ladder climbers.
It doesn't take long for Marc to follow Rebecca around like a puppy, doing whatever she does in order to maintain his newfound status quo. Everything starts out simply enough with typical adolescent mischief, but soon we find that Rebecca enjoys things a little more dangerous than your average teenage girl. Before long, the two spend evenings breaking into cars to steal money, purses, and drugs.
Of course, as is wont to happen, once a boundary is broken it becomes harder and harder to regain your original innocence and the likelihood of more extreme risk taking gets higher and higher. The duo quickly graduates from mere vehicular robbery into full on breaking and entering. The rush of their thrills quickly escalates when they realize they can use online star maps to figure out the location of the most lavish Hollywood mansions. This knowledge, coupled with detailed knowledge of the whereabouts of celebrities thanks to tabloid media, leads to their breaking into the mansions of the LA elite and taking their belongings.
Here's where the movie gets somewhat repetitive. Granted, it's a true story and from what I've gathered on the actual accounts, the telling is mostly faithful (names were changed, incidents were dramatized, but the spirit, if nothing else, stayed the same) but how many times is it necessary to see a group of teens rifling through the shoe closets of the stars to find the absolute most fabulous pumps?
Though the morality tale is apparent (be careful who your friends are, be careful what you want, etc.) the end result is a film that, while overall pretty good, just never seems to do much besides tread water. The cast is fantastic, especially a now fully grown post-Harry Potter Emma Watson, and the movie is largely redeemed by their performances, but I spent much of the film wondering if the story wouldn't be better told as a documentary. It's a fascinating story, true, but as a narrative work, there just wasn't enough there to keep me interested in any way beyond the superficial.