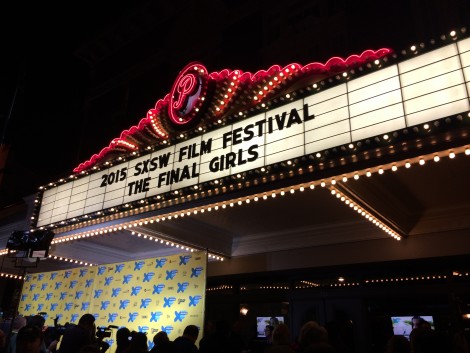 Kicking off the festival this year on Friday the 13th no less with a high energy horror/slasher comedy, The Final Girls. The crowd was rowdy and it made this a memorable experience indeed. This film will definitely score points with slasher film aficionados and horror fans alike, but don't expect the tautness of Cabin in the Woods, another film striving to hit meta status in poking fun at the horror formula. The Final Girls is one part, an homage to 80's slashers and one part a story of coping with loss. Sometimes it struggles by trying to commit to both themes in 90 or so minutes.
Max (Taissa Farmiga, notably from American Horror Story) is a bashful teenager who is in the midst of dealing with her mothers untimely death from three years prior. Her mother, (Malin Ackerman) is best known for cheesy slasher films in the 80's entitled "Camp Bloodbath" (basically Jason films). Max's best bud, Gertie (Alia Shawkat) has a relentless stepbrother, Duncan (Thomas Middleditch from Silicon Valley) who desperately wants Max to attend the anniversary screening of Bloodbath that he and other fanatics are attending. Reluctantly Max does attend the screening and after a freak fire breaks out in the theater, Max and her friends are supernaturally transported into the film, Bloodbath. Max has a chance to reconnect with her mom, sort of, and The Final Girls tries its best to set the rules of the this world.
Sometimes the pacing is off of the film and it feels like there is too much space for improvised lines that could have been cut a little earlier. This doesn't mean that there aren't some really fantastic and hilarious moments in the film. There is one particular scene that gave me a newfound appreciation for the beauty of slowmo, even if it was intended to demonstrate its overuse. The scoring is pretty cool and there is some pretty sexy dancing that is the detonator for the killer to appear.
The Final girls is a notable attempt by director Todd Strauss-Schulson and although it might not be an instant classic, it definitely is worth checking out.
In this article