I'll be the first to admit there have been times in my life where I've bordered on obsession in my demand for purity of essence and perfection in craft. The way I see it, if you're gonna do something, be the best, or let someone else take the reins and get the hell out of the way! This article chronicles one of those times…
It was with this singular raison de etre I went on a quest recently to find the ultimate apple fritter in Austin. A ridiculous, Quixotic quest, some might say, but ever since having my first bite of a truly great apple fritter in the mid 60's @ Shipley's Donuts in Alexandria, Louisiana (1801 Lee St., (318) 443-9543), I've tried many along my highway of life, and none have ever come close to that delicacy, the exception being Big O's Donuts in Cookeville, Tennessee (209 N Jefferson Ave (931) 528-2120), and a close runner up, Yum Yum Donuts in North Hollywood, California (11699 Magnolia Blvd. (818) 760-9054). Having grown weary of hoping against hope that the ones I've chosen along the way would match the taste, texture and aesthetic quality of that first great fritter (except for the above, they all failed… miserably), it became clear such a quest would quantifiably render moot being dissatisfied with yet another cheap imitation in this, my recent city of choice, Austin, Texas.
The apple fritter is a rather unique looking critter. Some mistakenly call it a bear claw. They might look like cousins but that is where the similarities end. After repeated encounters, you, too, will not make the mistake of wondering, "bear claw?" or "apple fritter?" ever again. But for now, like a primer of sorts, out of all the photos I scoured on the Net this pic retains all the visual aesthetics of what a great fritter should resemble: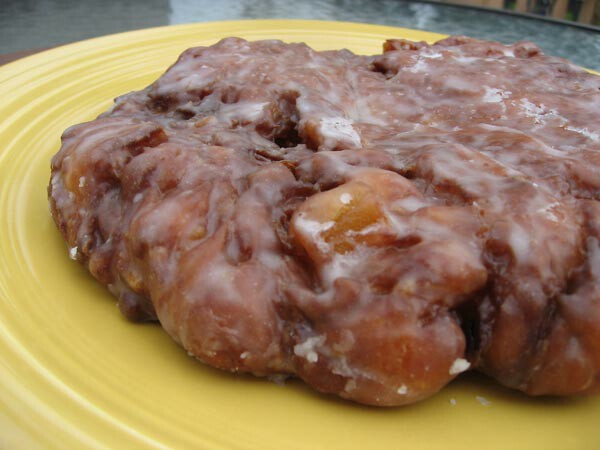 Hold that image.
A great fritter should barely fit in the palm of your hand, be fried to a turn, a bit crunchy around the edges, a moist cake filled with chunks and flavor of real apple, slathered in melted butter and creamy sugar. When you finally have that great one, there aren't any substitutes. EVER! And that is why I'm here, today, dear reader, saving you years of fruitless search and countless dollars wasted, your taste buds angry at your endless misinformed choices.
For three months I would hit about 2 places a week, as making a daily diet of these would be a tragic mistake in culinary intake. Those on a diet or have clogged artery issues can stop reading NOW.
Many were just poor excuses in execution, showing me the cook really didn't give two shits about the whole shebang; punching the clock, collecting a paycheck only. Or there were the industrialized machine made horrors scattered about, slightly looking the part, but woefully lacking in delivery. And then there were some who tried to add their touch on the classic apple fritter, all with interesting but mostly disastrous results. In particular, a local establishment -who shall remain nameless- tried to "bake" the fritter, which only turned it into a gooey mess that fell further apart with each bite. Oh my my…
But, when all was said and done, having eaten enough apple fritters in a three month period to bring down a decent sized humanus walkus erectus, we definitely found ourselves a hands down winner, with only one in the runner up category. And I mean hands down!!
The envelope please (insert drum roll….. brrrrrrrrr) and the winner is…
River City Donuts
1945 W William Cannon Dr.
(512) 445-5779
This shop is run by some Indonesian women whom have the art of apple fritter frying down to a proverbial science. Each bite a work of culinary nirvana! Me and Bela, my four-legged companion (RIP), became regulars in due course and every time I hit the drive-in window those women already had a fritter and several donut holes bagged for us, a smile on their faces, happy days are here again! Not sure where they got the recipe, but these ladies are firmly on top of their game in the apple fritter department. Sweet, sweet people, too.
(Note: don't make the mistake of substituting River City Donuts on Research. I did. That location is owned and operated by someone who has no affiliation whatsoever with the William Cannon location. Word to the wise.)
Runner up is…
Mrs. Johnson's Donuts
(www.mjbakery.com)
4909 Airport Blvd.
(512) 452-4750
Even though tasty, this long standing donut institution has several aesthetic twists that deviate from the classic style (point deduction). Kudos though to their great hours of operation and a very friendly Indian staff. Don't miss the blueberry old-fashioned!
So there you have it, folks. Never had an apple fritter? Do yourself a favor, do not pass go, do not collect two hundred dollars, go straight to River City. If you have sampled a so-so one and wondered what all the fuss is about? Again… River City. If you are like me, and are driven to find the bestest and yummiest of the most righteous and get down? …River City.
Hunker down. Get you one. Oh yeah, snag a carton of milk while you're at it. You'll thank me for that, a more perfect combo yet to be invented.
In this article