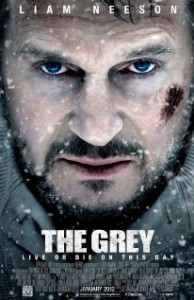 I DON'T DO THIS, USUALLY. THIS IS KIND OF A REVIEW, BUT MORE OF A WARNING. I won't give any plot points away because that just sucks. That is why I mostly steer clear of film reviews or  trailers until after I  have experienced the film. This film was on a top ten  list and I like Liam Neeson. So, I was in.
Ok, here we go. Are  you a unhappy person? Is there  a shotgun in  your house?
If yes to both, please skip this one. I have been fighting a few personal demons lately, so my spirits have been lower than normal. This film tore me apart. I was questioning the point of existence. I sent some soul crushing texts to a friend after I screened this. The fact that it affected me so much probably  tells you it is a well made flick. It is. The acting and the direction are great. The cinematography is breathtaking. It's the story that is so  damn bleak. It doesn't ever let up. The misery doesn't stop. There were times in my life that I would have dug this  flick. It just brought me down, the other night.  So, I guess I'm just warning you. Do  what you want with that.
THIS IS A FILM THAT CAME OUT IN JANUARY, IT JUST HIT NETFLIX. Tell me what you think if you decide to watch this.
In this article