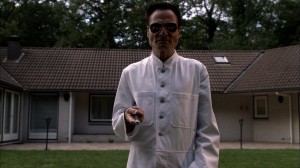 The concept for gross-out indie horror film "The Human Centipede" started with a sick joke. Tom Six, The film's writer, came up with the concept for the film because whenever he and his friends saw somebody evil on television, he would tell them that "they should stitch his mouth to the ass of a fat truck driver."
The story starts out with two American girls on vacation in Europe. They have the misfortune of running across a brilliant doctor who is the world's foremost expert on the separation of siamese twins. The evil doctor has plans for the two girls that are the opposite of what he's known for. Use your imagination.
The doctor, played by German actor Dieter Laser, is brilliantly creepy, with a little bit of a resemblance to our own American creepy Christopher Walken. In spite of the subject matter, there are comedic moments inserted by the Japanese actor Akihiro Kitamura-Katsuro, abducted to become the first part of the human centipede sequence. You may recognize him from NBC's "Heroes" as Tadashi, the Japanese businessman who tries to commit suicide after photocopying his butt during a New Year's party.
The film's pacing manages to keep your attention and keep you guessing…what in the world could be next? Director Six does a good job of circumventing the tried and true patterns that are expected from horror movies, and surprises with a few unexpected twists. The ending is my only complaint…it's abrupt ending has no closure for the victims. But in the end, isn't that like real life?
"The Human Centipede (First Sequence)" was winner for Best Horror Feature and Best Horror Actor in Fantastic Fest 2009, and Best Picture at Screamfest 2009. The film is available on demand with "IFC in Theaters" via Comcast, Cox, Cablevision, Time Warner, Bright House, Charter and Insight.
In this article