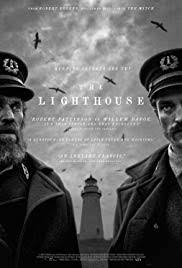 This has to be my favorite film from Fantastic Fest. It may even be my favorite movie I've seen all year. Everything about The Lighthouse is gorgeous, from the brutal crashing waves to the constant blaring of a cacophonous horn. Directed by Robert Eggars (The Witch 2015) and co-written with his brother, Max Eggars, The Lighthouse is hauntingly eerie and the perfect vessel for watching and nearly joining two men descend into complete madness.
Thomas Wake (Willem Dafoe Spider-Man Trilogy, Shadow of the Vampire 2000) & Ephraim Winslow (Robert Pattinson High Life 2018) are Lighthouse Attendants on a small and empty island taking place in the late 1800's. Besides a brief encounter that Winslow has with a grounded Mermaid with full genital details, the two are destined to spend 6 months together with smokes, libations, and only each other as company.
Pattinson's Winslow is a mysterious type and kind of withholding. Wanting to follow the rules and do good work and that's where he is at. Dafoe's Wake is a drunken amalgamation of a sea pirate speaking in riddles and songs, but he takes his position at the Lighthouse very seriously. Only he is allowed to work the light and keeps it under lock and key. That bothers Winslow very much, too much at some point.
Starting their relationship strictly like a captain and a crew-member, the two men eventually become friends. However things starts turning towards the paranoid when neither seem to comprehend how long they've been on the island together and Winslow starts imbibing and revealing guarded secrets. It's hard to know if they are collectively losing their minds as they both suspect the other one of being a snake-oil salesman. I think the audience can equally agree that neither men were very hinged from the beginning, but a very specific Seagull may really be to blame.
The use of space is so important for Eggars' narrative. Most of the encounters between the two men are shown while eating or while in their sleeping quarters. The very close proximity adds to the secluded and claustrophobic mood of the film. Like The Witch, The Lighthouse was filmed in black and white on 35mm. Grainy and gritty to give it the old film feeling. The performances by Dafoe and Pattinson are phenomenal. They really breathe life into their characters and put everything into the role, full stop. With less strings than The Witch, the score is also very appropriate. I can't stop/won't stop bragging about this one to anyone who will listen. Go see it and hold on to your butts.