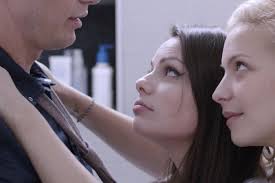 With a name like this, I thought I was getting into something risque, maybe taboo, or at least something that pushes the envelope. The Nymphets didn't deliver any of this. In fact, the only thing I can say about The Nymphets is it was a giant tease. Writer/Director Gary Gardner must have wanted to show the audience what the ultimate blue balls looks like for a creeper.
Joe (Kip Pardue) rescue's two young girls fake ID's from a bouncer and then invites them back to his apartment. Joe is a fairly successful something year old who indulges the everlasting giggly twins, Brittany (Annabelle Dexter-Jones) & Allyson (Jordan Lane Price), two under age teens looking to get into trouble.
The Nymphets came across as more of a study on what happens when you let two teenage girls run their dirty mouths for an hour and a half. The two girls playfully tease and antagonize Joe, when really all he wants is to get laid by one of them. What makes The Nymphets uncomfortable is how Joe constantly creeps on these two girls that may or may not be able to legally drive. You can never tell if they want to sleep with Joe or just tease him, but either way it's hard to really care.
I guess I was expecting something that had the ferocity of Funny Games or Cheap Thrills, but instead it played more like Lolita (the Jeremy Irons remake).