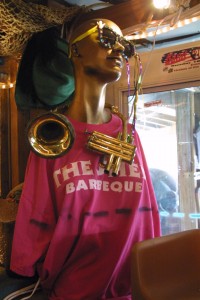 While you can't throw a stone in Austin without hitting a BBQ joint, you'd have to throw one pretty far to hit the Mississippi kind. On March 17th, aim that stone east of i35 and you'll be lucky enough to experience not just any Mississippi BBQ, but the best Mississippi BBQ in the country. The Shed is coming to Austin.
THE SHED WAS BORN IN OCEAN SPRINGS, MISSISSIPPI….
It's 2001. A young Brad Orrinson had a thing for dumpster diving. The highlight of his week was the "night before trash day." He also had a thing for BBQ. The two came together one night knee deep in "hardwood flooring" when Brad had an epiphany: build a pick-up only spot for great BBQ using the stuff he had found. He recruited his sister Brooke and the two started cooking, smoking, and timing meat until they got it just right. Brad perfected the secret Shed Rub. The sauce was sent from heaven by a man named Poppa Jack, who had been doing some perfecting on his own, working that magic flavor for the past 25 years. With sauce and meat in place it was time to build. Brad built the first Shed, all 300 square feet of it, with his dumpster treasures. It was an instant hit. The family, brother Brett, mom Linda, and dad Craig, jumped on board to help out. Music came next extending the establishment's official name to The Shed BBQ and Blues Joint. The Shed's famous BBQ has since been featured on the Travel Channel's Rib Paradise, Food Networks' Diners, Drive-Ins and Dives, and their Bama Que. They were recently the winner of the Regis and Kelly's nationwide ultimate hometown Grill Off and were named Best Pulled Pork Sandwich in America by The National BBQ News Magazine. Today the Shed is 4,000 square feet (95% of which is recycled material) with 5 other sister establishments in MS, LA, AL and FL.
AND WORD SPREAD TO AUSTIN ABOUT THE FAMOUS MISSISSIPPI BBQ…
Brett moved here in 2006 as a Katrina refugee. He was a sound engineer/artist in New Orleans and after the storm pretty much wiped out all the music venues in the city, Austin seemed like the only place to go. Brett started Out the Woodwork Studios here and began recording and producing albums for artists. It became a tradition to wrap up the completion of a record with a big party where the band could play their new music and he could make his family's famous BBQ. The enthusiasm for Mississippi BBQ had party-goers offering him catering gigs. It was different than anything they had ever had-the BBQ is served wet with a homemade brown sugar based sauce and a spicy kick unique to Mississippi-and everybody that tried it wanted more.
Despite the endless requests, Brett just laughed it off. That was until two months ago when Brett got to talking to Rabbits' owners, Ryan Duran and his 76 year old father–for which the bar was named–about putting a Shed on their property on the corner of East 6th and Chicon. The Shed would supply the BBQ and music and Rabbit's would complement them with the "coldest beer in town." Brett enlisted good friend John Hart Asher to convert a 16X16 foot trailer into Austin's official Shed complete with metal frame straight out of "mad max." And so the Shed was born yet again.
NOW FINALLY THE WAIT IS OVER…
On March 17th, starting at 2pm, the Shed will be celebrating their official opening by serving pulled pork, brisket and chicken sandwiches with G-maws Baked Beans and Potato Salads. There will be live music from Bruce James Soultet, Mudphonic, Papa Mali, Good Bad People, Side Show Tragedy, Monument to No One, The Greyhounds, Floyd Pinkerton and more.
You can put that stone down and come see for yourself.
In this article