<!–[endif]–>
This is your life…on Jazz Fest.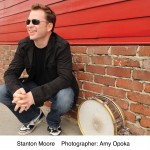 So became the mantra of ten days lived, loved, and ultimately lost   to the increasingly sticky streets of my beloved voodoo city. Or so  I thought until I checked out the live music happening in town this  weekend.  With the Stanton Moore Trio, Big Sam's Funky Nation, and Mike Dillon's Go  Go Jungle playing at Ruta Maya,  Continental, and the Parish  respectively, it turns out: this is your  life…on jazz fest…in Austin.
For those of you who might have missed it or for those of you who aren't ready to let it go…
 
Stanton Moore Trio
There are many faces of Stanton Moore all of which shined through this week in New Orleans. From Freaquinox to Galactic he is a force to be reckoned with, and with every show (I believe he played a record number over 10 days) he seems to be intent on outdoing himself. I am continuously blown away by this New Orleans drum legend's energy and stamina. He will be joined Saturday night by Ephraim Owens and Red Young at Ruta Maya.  
Big Sam's Funky Nation
Big Sam's mission in life is to bring joy to it—primarily through shaking your booty. As hard as you can. All night long. His show at Blue Nile was a high energy, sweaty, explosion of horns. Joined by Tarace Boulba (they will not be there this weekend), a 30 person strong Afro beat brass band from Paris, there was little room left on stage for the Big horn blowing man himself. Big Sam will be shaking it at the Continental Club.
Mike Dillon's Go Go Jungle
Mike Dillon is a mad genius; a freaky son-of-a-bitch with an intensity that pulsates through every pore of his body. Go Go Jungle is an extension of that pulsation—a hot, sweaty, eyes closed, hips swaying, party. With songs like, Your Mother Was My Teacher, the man is committed. And in two years running, I have still not seen him naked. The tradition, usually held around sunrise involves encouraged clothing removal of the band and audience members alike. This year, he rocked the Dragon's Den in what was decidedly a religious experience. I made it until 6am. There were taunts and teases, false promises, but ultimately, by the time I headed out in the early morning light, only his shirt was off. Maybe you'll get lucky this weekend at the Parish.
<!–[if !supportLineBreakNewLine]–>
<!–[endif]–>
<!–[if !supportLineBreakNewLine]–>
<!–[endif]–>
In this article