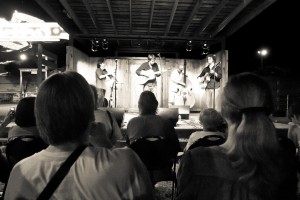 You can't go back, but you can try to find it…
– Champ Hood, Bon Haven
There's an Uncle Walt's Band tribute show tonight (Thursday, September 9th) at Threadgill's South.
Warren Hood, Marshall Hood, and Rob Teter have been practicing hard on the tunes and will be conjuring up a little of the magic from one of Austin's seminal Roots/Americana bands—easier said than done.
Don't worry, something tells me that Warren Hood and the Spartanburg contingent from the Belleville Outfit are up to the task. You can't go watch either band play without hearing a handful or more of Uncle Walt's tunes.
I asked Warren what will be different about this gig:
"Well, for one, it will be entirely Uncle Walt's Band material. This will be an acoustic show too which is closer to the original sound. We'll do some classics, but there will be more obscure tunes that the boys did early in their career and did not record. Even fans that used to listen to the band might not know a few."
Running mates with the likes of Lyle Lovett, Lucinda Williams, Townes Van Zandt, and Willis Alan Ramsey, Uncle Walt's Band left a high water mark on the Austin music scene as high as the Memorial Day flood of '81, which coincidentally occurred around the peak of the trio's local success.
The band consisted of three Spartanburg natives, featuring Walter Hyatt on guitar and vocals, Champ Hood on guitar, violin, mandolin and vocals, and David Ball on bass and vocals. All three brought original music to the group, but they peppered their sets with a seemingly bottomless treasure chest of covers. Ruby, Stagger Lee, (When It's) Darkness on the Delta, Cotton Mill Man, Under the Boardwalk, Trouble in Mind, Ashes of Love, Since I Fell for You, or maybe an old English ballad…there just was no telling what would happen next on stage.
Beauty was that no matter how classic the cover, the original music always felt like it held the spotlight—it was spell binding.
Steve Clark gave the band a home base at Waterloo Ice House on Congress Avenue in the 70's and 80's and dubbed them the bluegrass Beatles. The tie in is so closely knit, it almost seems like Waterloo Ice House existed so the boys would have a place to play. Still, after a decade in Austin, the band parted ways in 85. Unlike the Beatles, they would get together for reunion shows every now and then until, well, they just couldn't anymore.
One of the last times they made a splash in Austin was in support of a Sugar Hill compilation, Girl on the Sunny Shore. Waterloo Ice House on Congress was long gone by then, so the final act found the closest thing to home—Waterloo Ice House at 6th and Lamar.
Almost twenty years later, Warren, Marshall and Rob will try to take us back for a night.
In this article