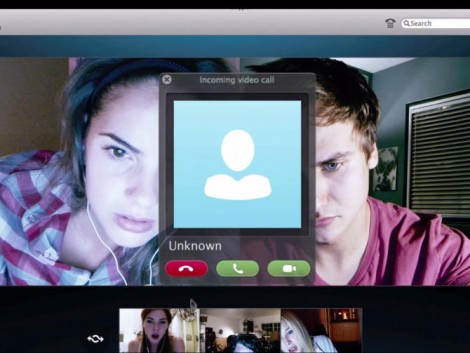 I now know what it is like to stare at a teenagers computer screen for an hour and a half. Unfriended was an unlikely pick at SXSW, but it seems like the theme for this year is horror/suspense. Unfriended is probably the best representation of the video chat/web formatted films out there. I had pretty low expectations going in, the trailer made Unfriended look like a shock horror film, but to my surprise it ended up as a supernatural slow burn.
Cyber bullying is explored in Unfriended, when a friend of a teenage group kills herself after an embarrassing video of her goes viral. The film starts off marking the anniversary of her death when the friends decide to get online for a nice unsuspecting video chat. Quickly they realize they are not alone in their video chat, but there is someone who knows their secrets and plans to terrorize them.
Prior to watching Unfriended, the exec. Producer came out and talked about how the film the audience was about to screen may or may not be anything like the final film that hits the theater in the following months. That was a first for me and I didn't understand why he mentioned this until after the film. So basically each take was the length of the film without any cuts because of the fact that the characters are basically on screen the whole time so it plays out kind of like a play. This also explained why there were some odd lulls in conversation, for example there are multiple scenes where the lead characters are talking to one another in a private message with the other friends hanging out in the background. So the filmmaker wanted the attention to be drawn to the private conversation which required the other background characters to be quiet. This kind of had an unnatural feel to it, but it only periodically occurred. Overall Unfriended was a pretty solid pick for SXSW.