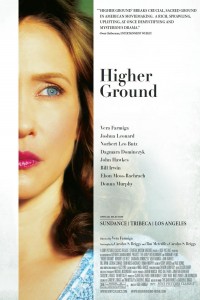 "Higher Ground" is a moving portrait of faith found and lost (in that order) based on the memoir "This Dark World" by Carolyn S. Briggs. But make no mistake; this is not snarky Hollywood taking a swipe at believers. Under the even-handed direction of Vera Farmiga, the film handles both the characters and subject matter with complexity and respect.
Vera Farmiga may not be a household name yet, though her face is likely familiar to audiences. As an actress, she's been cranking out daring performances for some time now and the industry has taken note with numerous award nominations and wins ("Down to the Bone", "Up in the Air", "Boy in the Striped Pyjamas"). But "Higher Ground" will be the film that elevates her into mainstream consciousness. Her knack for registering a certain warmth and intelligence is on full display here, but the film's salt-of-the-earth, poetic direction is the greater achievement.
We meet the lead character, Corinne, as a small child in an unhappy household. Her mother is too pretty and restless and her father is too drunk and self-pitying for there to be any harmony at home. But one day in vacation Bible school, Corinne believes she hears the still small voice of the Lord asking to be let into her heart, and so she commits herself to a life in Christ.
Years later, she's a moon-eyed teenager (played effectively by real-life sister Taissa Farmiga) falling in love with a hippie songwriter named Ethan (Boyd Holbrook), who sings in a local band and has more than his share of girls to choose from. Sweetly, he only has eyes for Corinne. He pursues her, woos her, and way too soon the young lovebirds are forced to live the life of responsible adults. The handsome would-be rock star winds up breaking rocks instead to support his wife and baby. This is not the life of their dreams.
When a near-tragedy leaves the young couple stunned and reeling at their miraculous good fortune, they conclude that surely this must be the hand of God.
We next meet Corinne and Ethan as adults, played by Vera Farmiga and Joshua Leonard. Corinne gets a good old-fashioned baptism dunking in a muddy river and proclaims "Hallelujah!", squealing with delight before something creepy in the depths below rubs her the wrong way and she leaps fearfully from the water.
As Corinne's life unfolds, we find that she is a good-humored woman who aims to make the best of life and genuinely wants to know and be touched by God. Unfortunately, more often than not, she goes through the motions and says all the right things, without really feeling it deep down inside. This is revealed to us when Corrine takes a boat ride with her best friend, Annika (Dagmara Dominczyk), who exudes earthy sensuality and effortless spirituality all at once.  Annika, moved by the simple beauty of the day with her friend, begins speaking in tongues. Corinne looks at her in astonished wonder and proclaims, "I want that."
Just as the cracks in Corinne's faith begin to spread and threaten real structural damage, another tragedy strikes, but this time the hand of God does not swoop in to save the day. There is perhaps nothing more sure to push a "backslider" over the edge than telling them that something horrible is "God's will." And thus Corinne's faith comes crashing down.
What follows is her struggle to find purpose, meaning and self.
Her journey involves an ensemble of characters that (thankfully) avoid stereotype. An exception may be the Pastor's wife whose rigid smile and whispered admonishments barely disguise a selfish personal agenda. But in all honesty, if you've never run across one of these women, you are blessed indeed.
Most of the performances are rendered with rich specificity, though the character of Ethan makes a disturbing jump from his funny, charismatic youth to a dour and humorless adult. It's unclear if this was intentional to show what the rigors of family life and responsibility had done to him (which is unfortunately not explored at all) or if it is perhaps a regrettable limitation on the part of the actor. Whatever the case may be, young Ethan and adult Ethan do not seem to be related, let alone the same person. Another lament is that Corinne's relationship with her non-believing sister, Wendy (played with vibrant enthusiasm by Nina Arianda), is not given more attention aside from a couple of episodic events. When the two are seen late in the film at a birthday party, we're given no insight as to how their bond has evolved over the years. Donna Murphy and John Hawkes, as Corinne's parents, make the most of a relationship arc that feels to be the victim of some uneven editing. Still, they wring a good deal of emotional resonance out of their final scene together.
As a first-time director, Ms. Farmiga makes fine choices that keep the camera work subtle and unobtrusive. The cinematography is more polished than one might expect (going grainy might've been the obvious choice) with characters bathed in a luminous, pearly white glow. The soundtrack is wisely made up of traditional hymns sung with simple earnest.
But the real triumph here is Farmiga's handling of a subject that is all but taboo in the film industry. In Hollywood's risk-averse climate and the current socio-political divide, it takes courage to make a film about religion that is not contrived for the Christian niche market ("Left Behind", "Fireproof") or scoffing cynics ("Religulous", "Saved!", "Jesus Camp"), but rather presents a crisis of faith without judgment and gives the audience the room and respect to come to their own conclusions. In lesser hands this subject matter could easily become maudlin or preachy, but Farmiga's confident, no-frills direction strikes just the right tone, landing a bull's eye somewhere between gentle humor and insightful drama.
"Higher Ground" does not take cheap shots, but it does not pull punches either. This is a film for the faithful, the faithless, and the rest of us who struggle somewhere in between.
Now that summer blockbuster season is finally (mercifully) winding down, Hollywood will start rolling out more mature fare and its year-end award contenders. Let's pray movie-goers find this little gem. It deserves more than awards. It deserves to be seen.
4 of 5 stars.
In this article