Interview by Rosie Gomez.
AUSTIN DAZE:  Have you ever attended SXSW before?
WALLIS BIRD:  Nope, but friends of mine who are seasoned attendees have been getting onto me for the last few years to come over… so my time has come! I'm very excited about it.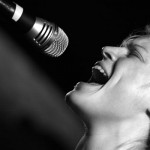 AD:  Any particular artists you're looking forward to seeing at SXSW?
WB:  The line up is insane! I'll be falling in and out of gigs every days, but here's a few of the artists I want to see:
Andrew Bird
Easy Star All Stars
Lisa Hannigan
Hamell on Trial
The Indigo Girls
Ida Maria
One Day International
Tara Jane O'Neill
Republic of Loose
U Can Unlearn Guitar- just for the name!
AD:  I know you've been touring all over Ireland, Germany, and the UK for your album "Spoons" with artists like Billy Bragg and Gabrielle.  How's that been going?
WB:  It's cool supporting bands for the things you learn about other productions and standards of professionalism and seeing the backstage to bigger tours, but my heart lies in my own gigs. Be it my solo gigs or with my band. Touring my shows is my purest form of expression. Last year I played over 100 gigs so it seemed like I was existing on the stage only! It's funny when you play so many gigs, they can all roll into one so It's important for me to find the time after the touring to reflect on everything that just happened.. Every gig takes a little piece of my life with it because I give so much personally and physically, so I write in my diary, a blog, a song, a poem to remind me.
AD:  Any crazy stories from the road?
WB:  Ah Man, too many- you'll have to wait for the book!
AD:  You've been compared to artists like Ani DeFranco and Janis Joplin.  What do you think about that?
WB:  I've so often been lazily compared to other female artists where the only thing we had in common was a pair of tits, so to be compared to Ani Difranco or Janis Joplin is an honor as they are phenomenal women who have changed the face of music and the industry.
AD:  You did a cover of Depeche Mode's big hit "Just Can't Get Enough" for an advertisement for The Sun.  Did you think that it would be such a big deal?
WB:  Not at all, I enjoyed putting my own spin on the song, but to be honest I didn't expect to get the gig, and all my instruments were in other countries, so the recording was charmingly shabby! The product was, then, a personal compromise for me, but it helped finance the recording of my second album so I find any recognition from it a little hilarious and kept humble on my part!
AD:  I read that you received your first guitar at 6 months old from your dad and after an accident you switched from left handed playing to right.  Was that a difficult switch?
WB:  Not that I recall, I was only a baby. I just remember being annoyed that I couldn't play the normal way so had to change it around. Babies are more able to adapt to situations like that, they don't know any different. Adults are often the same though the older you get the harder it sometimes is to pass easily through an adversity like losing fingers or a limb, but having that accident so young definitely shaped me into the determined and stubborn person I am today!
AD:  Do you think that it has had a major effect on your sound?
WB:  Yes, I think so. I'm playing from the top E string to the low E string so that gives it a different range in tones and timbre. I also realized a few years ago that i have a penchant to a little pain, because after my accident I immediately connected pain with being lavished with love and affection, so when I split my finger or the nail in two because I'm bashing the guitar so hard, I enjoy it because I love my guitar so much and I love what it has given me over the years.
AD:  Any more touring planned for the US?
WB:  Yeah, I'm definitely hoping to come back to the US as soon as possible
as I'm really excited by the idea of touring in the States….watch this space!
AD:  When can we expect a new album?
WB:  I'm going to be releasing the album in Europe around the end of the summer, so hopefully an American release will follow before too long. But either way you should be able to get it on Amazon and those kind of sites.
Catch Wallis Bird: Saturday, March 21   5:00 p.m, SESAC Day Stage Cafe Austin Convention Center   (500 E Cesar Chavez St), Saturday, March 21   12:00 a.m, Habana Calle 6 Patio   (709 E 6th St)
In this article