The Duplass brothers, the festival-darling unit that is Mark and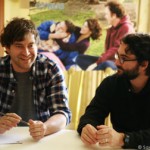 Jay (of Puffy Chair and Baghead cult status), were back at SXSW this year with their first official Hollywood film (Fox Searchlight put up the dough and John C. Reilly, Jonah Hill, Marisa Tomei star). Cyrus, is a continuation of what is becoming known as the Duplassian Method– unconventional film making like shooting the script in chronological order,  never storyboarding, and allowing actors to develop their own dialogue and blocking in order to obtain the ultimate sense of realism.
The "realism" for the brothers is creating a world where hilarious, serious, vulnerable, and uncomfortable live together in any single moment–essentially bringing the complexity that is the human condition to the screen. This is ultimately done through relationships–any assortment of which can bring startling revelations about who we, the  raw and fallible, human, are.  This time, the Duplass brothers use the interdependency of three adults–Marisa Tomei (Molly), John C. Reilly (John) and Katherine Keener (Jamie), and one adult-child, the intense and arresting, Jonah Hill (Cyrus) to play it out.
Filmmakers and filmgoers alike  are continually fascinated with the Duplass brothers' work–from both a technical standpoint (how did they do that?) and the cut-to-the-bone  (Wow, that made me feel weird) effect it has on their audiences.  They were kind enough to sit down and let us pick their brain in the hopes of getting some insight into how it all goes down…
On their filmmaking approach…
JAY DUPLASS: Some schools have definite filmmaking styles–you can almost tell an NYU film when it comes out. But I think they are teaching standard coverage and they are teaching methods of storytelling. For me and Mark, we tried those methods and we couldn't come up with a good movie. Honestly, it wasn't until we made some mistakes and started fostering interactions and filming them like documentarians were we able to make something that we thought was good.
Making the move from indie to studio…
MARK DUPLASS: For better or worse we are workaholics and are driven to do a lot of things. It's been really fun for us to to have dipped our toe in the Hollywood world with Cyrus and at the same time keep making these tiny movies–which is how we started. And if we get burned out, I think it's healthy to remember why we started making them in the first place and be around our family and friends and keep making movies from the heart.
On finding their voice and sticking to it…
JD: We did find it in our earlier films and once we did we had to be really clear about what we thought we had to offer–the sense of reality. We achieved that through improvisation and through filming in a documentary style so that we're not bringing the actors to the camera, we are bringing the camera to the actors. These are all things we just did instinctively over time and we had to learn to articulate and evolve over time.
And speaking of that voice…
MD: The more personal the better. The actors we chose like John C. Reilly who says, "Hey, I look like Shrek", says it and doesn't care. It requires people who are really self-aware and are fine to put themselves up on screen and let people laugh with them. Our thing is that we love these characters and we aren't making fun of them–we love the lovable losers and it's a different thing to just laugh at them and point and say, "Ha ha, look at those guys." These are special, strange people trying to make their way in the world and they do a lot of funny shit but in the end there is a lot of emotional stuff to it. I'm all about exploiting any of that suff that comes from my life.
Female exploitation: Marisa's character has all sorts of potential…
MD: We were really concerned because that character is the cuckold and whenever you are playing a character that is not aware of the things going on around you you are on that slippery slope of becoming the dufass and not the interesting character. One of the main reasons that we cast Marisa is because we knew she was shrewed and intelligent and really, really strong and we knew she would have opinions about what it should be. And admittedly, Jay and I are real good with story and plotting but not so great with female dialogue and really getting into the female nuances and intricacies of what would make a woman in that situation tick. Marisa is very into ownership of her character and she would say, "These lines really function well and I'm going to say it like this and make it better."" She had a strength to her that guaranteed she wouldn't fade into the background.
Giving their audiences "permission to laugh"…
MD: If you watch our movies at home, and we found this with Puffy Chair, they play much more as dramas. There is this thing we call "permission to laugh" when something uncomfortable is happening you're not sure whether you should laugh. When you're in a big movie theater with 1,000 people it only takes one person to laugh and then everyone will jump on board. If you're at home with your girlfriend or boyfriend or whatever and they aren't laughing you don't want to be the first one ot laugh because you might be doing something inappropriate. You are idenifying with the darkest moments of someone's life and realizing sometimes you look stupid and it's OK.
And alas, box office expectations…
JD: Well, we thought Avatar did OK. We would love to be a success in the ways that Sideways, or Juno were. Puffy Chair made $250,000 in the movie theaters so we are looking to double that. No, let's seem humble–$260,000.
###
In this article