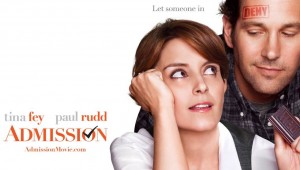 It's a sort of truism that nothing truly great is ever released this time of year; springtime movie goers, still sailing on the winds of the holiday epics from just a few months prior, are teased with trailers promising us jaw-dropping blockbusters to be released this upcoming summer. With the awards season behind us, it's simply too soon to be shown anything that seeks to buck the rules of style and convention in an effort to push the boundaries of narrative form. No, spring is a time to release the fluff, the filler, and the just-a-movies.
Of course, I don't necessarily mean that in the negative. Not every movie needs to be action packed, bang a minute summer romp or have the thrills and drama of the fall and winter Oscar bait months. Some movies exist purely to tell you story and, if they're doing their job right, entertain you in the process.
And so it goes with Admission, the new movie from director Paul Weitz (About a Boy). Admission stars Tina Fey, in her first post-30 Rock outing, as the highly driven, if somewhat boring, Princeton College admissions officer Portia Nathan. Portia is a woman who thinks she has everything she wants out of life—a career she loves; a respected, perhaps eccentric, long-term boyfriend from the English department (you can tell by the tweed)—and she has no plans to change anything. Her content, of course, is rattled by a series of personal and professional developments that force her to reexamine her lifestyle and life choices.
The pressure is on at work; it has been announced that after many years in the number one spot for college applicants, Princeton has fallen to the dreaded number two position. This simply will not do for Portia's boss, played by the always amazing Wallace Shawn, who has announced his retirement as dean of admissions as of the end of this school year and wants to make sure that he goes out in his rightful position of the top.
It is through her efforts to drive applications that she meets John Pressman (Paul Rudd, because of course he's in this movie) the quirky headmaster of The New Qwest Alternative School. John has been attempting to contact Portia for months in order to get her to visit his school. After all, a school for differently minded students might otherwise fall off the radar were it not for his persistent insistence that Portia pay a visit.
Under specific orders to go out of her way to recruit the best of the best, Portia takes a gamble and agrees to pay a recruiting visit to his school. There, despite being outmatched and outwitted by a group of freethinking students that have been taught the value of discourse and debate, Portia is introduced to Jeremiah Balakian (Nate Wolff, in what might just be a breakout performance).
Jeremiah is an unconventionally brilliant autodidact whose true potential is not reflected in his academic performance. Despite a barely passing GPA, he scores off the charts at both the SATs and AP tests. He has overcome the harshness of both being adopted and growing up poor and he desperately wishes to attend Princeton. Is there anything Portia can do to help?
Oh, but that's not all. John, it seems, attended the same school as Portia and shared a few common acquaintances. And even though they've never met, John happens to know a few secrets about Portia's past. And some of the information John knows leads him to conclude that Jeremiah may, in fact, be the child Portia gave up for adoption all those years ago.
Shaken by this revelation—she can't be a mom, she's no good with kids, she's told us so several times already!!—she returns from her trip eager to put all of that out of sight and out of mind and return to her nice, comfortable, normal life. This world, too, however is turned upside down as it is revealed that her boyfriend's eccentric, uncaring ways were the result of a long term affair with a colleague from the English department. Whom he's running away with. Because she's pregnant. With twins.
Thus begins Portia's journey of self-discovery and self-love. There's nothing groundbreaking here and there doesn't need to be. This is merely one woman's attempt to navigate the crumbling mess of her life while learning what it is she wishes to be. As a role, it's a perfect post-30 Rock venture for Fey, whose performance allows her the opportunity to spread her wings and flex her chops a little without straying too far from the awkward woman in her 30's shtick that she does so well.
The plot is, at best, formulaic. I found myself unsurprised at all of the many questions and revelations given throughout the film. But despite its predictability the script, based on the novel of the same name by Jean Hanff Korelitz, is surprisingly well-wrought and manages to bring the underlying humanity of Portia's problems and the lessons she learns. And Fey's shtick is perfect for Portia's journey of self-discovery via folly.
Lily Tomlin was a scene stealing delight as Portia's emotionally distant, feminist mother. Her deadpan delivery and dry humor were positively spot on for the role and she was the perfect foil for Fey as Portia's life spiraled farther and farther out of control. The real star, however, was Nate Wolff who brought a surprising depth and worldliness to Jeremiah's awkward and brilliant character.
Admission is by no means a perfect film, nor is it a great film. In the grand tradition of spring time releases, Admission is, truly, just a movie. Despite its flaws and reliance on narrative conventions, it does happen to be a pretty good movie. For all its predictability it manages to stay engrossing and, most importantly, entertaining.
Despite its cast, which more than skews towards comedic, there are moments of genuine emotional drama that might resonate with the 30s professional crowd. While it is by no means an original, Admission is, at its core, a heartwarming meditation on hidden truths and hidden beauty that may otherwise go unseen. And what we and Portia both come to realize is that adulthood itself is not a destination, but rather a continuing journey of growth.